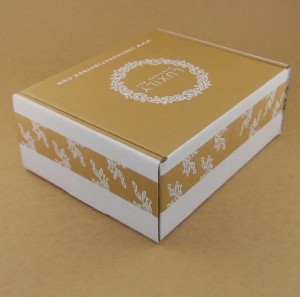 Compared to many box producers, our minimum for most custom printed box applications using a flexographic print process is a very low 1,000 boxes. (See first "related post" below) However, we know that for many startup companies seeking branded packaging, 1,000 boxes is a stretch and impractical, especially if they are still in pre-launch mode.
In fact, because we realize the financial impact of a premature and perhaps incorrect branded packaging decision, we have gone to great lengths to help customers avoid a commitment they may regret. (See second "related post" below)
Unprinted Boxes with Custom Printed Labels
This is highly recommended for companies that may only need a handful to a couple of hundred boxes. Using a stock (unprinted) box from our Globe Guard Products store or someone else's inventory is a great way to test the market and confirm the box size requirement. For example if you start out with our 6"x6"x6" box but it is simply too tight, changing over to our 7"x7"x2" box is quickly and easily done. If it is too large, you can reduce box and mailing cost by reducing size to our stock 5"x5"x2" mailer box.
Labels are not inexpensive but what they do offer is flexibility so you can develop and if necessary, change your look without having to replace expensive print plates. Learning is an important part of the entrepreneurial process and I often tell people how we totally rebranded only six months after we launched our company in 2007. BTW, we also rebranded again last year when we determined that the logo and tag line that we had been using no longer fit us the way it did eight years ago.
The point is that things change and using stock boxes and custom printed labels is an inexpensive way to market and learn about your customers and their buying patterns.
Digital Printing on Corrugated Boxes
This is a great branding option for companies who want to avoid using custom printed labels or simply want a higher end look. Digital printing can be quite expensive depending on quantity but it has several advantages that other options cannot provide, including and especially flexographic printing. For example:
Digital does not require print plates. This can save a lot of money, if your graphic design might change or if there are variables.
Compared to flexographic printing, more colors and more sophisticated graphics are possible.
If the digital printer has CAD table cutting capability, they can usually make very short quantities of any style or size, without a cutting die.
In addition to higher cost, the potential negatives of digital printing include:
For some companies, limited available sizes
There may be substantial set up or art fees required
Some companies may want you to supply the boxes and they will print them for you. This usually adds trouble and cost, and results in waste.
We are not at all "anti-digital" and there are times when we either do large volume digital work and we suggest digital to dozens of inquiries every month. We don't have a good company to refer people to but if you are one or if you know of a digital printer that has worked well for you, we would love to hear about them.
We are all about using the right branding process for a graphic design, and at the right time. If you would like to discuss your specific needs, please contact us at Salazar Packaging or call us at 630-551-1700.
Related posts:
http://salazarpackaging.com/minimum-custom-printed-packaging/
https://www.globeguardproducts.com/industry-experts/want-launch-subscription-box/
http://salazarpackaging.com/short-or-single-run-packaging-solution-think-digital-printing/
https://www.globeguardproducts.com/industry-experts/flexo-friendly-art-design-for-subscription-and-e-commerce-boxes/