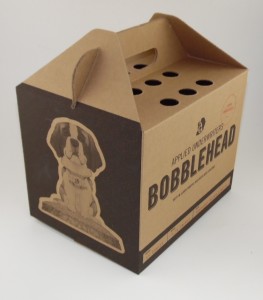 We are best known for our semi-custom packaging where we can basically print anything including inside/outside prints, flood coats, etc. on any available, limited box sizes and styles. At present time, that money saving "limited" list of available options is over eighty sizes and styles.
Other people know us as great designers and manufacturers of custom sizes and shapes to satisfy just about any application. Even though we are accustomed to seeing and creating some great unique packaging, we were a little surprised when Applied Underwriters approached us and asked if we could create a box with a handle to contain a custom bobble head figurine of their mascot that would be handed out at an upcoming show. That was a first ever request but we are always enjoy a new challenge.
The Custom Printing Process
Once we closed in on the style and size the customer wanted, we were quick to provide a mock up sample to make sure everything – the construction, design, board grade, etc. were exactly what they wanted. Our philosophy is very simple – when you are buying custom tailored, NOT "off the rack" you should be 100% satisfied with the finished product.
Once we made any necessary tweaks to the structural design, and we had customer approval, we provided die lines so they could finish their graphic design. This design was a little different in that there were a number of places where the graphics included different shades of the same color, especially on the panels where the dog was shown. We were able to provide the look the customer wanted with smart use of screens and colors. After final approval of the proofs, colors and layout, we were able to make print plates, a unique custom cutting die and produce finished boxes within a few short weeks, making their show deadline.
Needless to say we are very proud of this work because the customer was thrilled. The box we helped them create attracted a lot of attention at the show and even on the airplane flight home as the photo below shows, of at least one potential customer using it as his carry on.
We LOVE Custom Printed, Branded Packaging
The two founders of our company have over FIFTY years of combined packaging experience and we still enjoy going to work every day. We have great customers who are constantly changing and growing and we thrive on their creativity and enthusiasm.
If you have an application that you would like to discuss with us, confidentially, we will be glad to review it with you and give your some frank feedback. If it can be done, we can tell you how and approximately what it will cost. If it can't be done well, we will not waste your time or your money.
You can trust us to deliver like we did for Applied Underwriters, on time, and under budget. Call us at 630-551-1700 or contact us at Salazar Packaging.
Related posts:
http://salazarpackaging.com/custom-packaging-and-design/
http://salazarpackaging.com/the-beauty-of-semi-custom-packaging-for-e-commerce-and-subscription-box-programs/
http://salazarpackaging.com/when-custom-packaging-can-save-you-big-money/
http://salazarpackaging.com/madison-reed-selects-salazar-packaging-new-custom-printed-e-commerce-box/