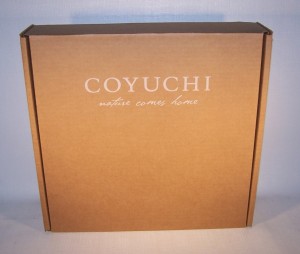 Huh? Some might be confused by that statement, but the fact is that most trends begin on the west coast, and that especially includes shifts in the way we think of sustainable packaging.
Black ink has been the long time favorite color of companies who want to print or brand their shipping boxes because they believe it to be less expensive and will stand out best against the natural brown of a Kraft box. Neither of those perceptions is accurate. Black ink is no less expensive than any other color, and as these two California companies have proven with our help, white ink can make just about any statement you want it to.
Coyuchi – Berkeley, California
My friends in northern California take great pride when they refer to their area as the "ground zero" of sustainability. No more so than in San Francisco, and almost directly across the bay from them is the college town of Berkeley, CA, which is well known for environmental and social activism. Berkeley is also headquarters for a very unique company and a very good customer of ours.
As you can see at their beautiful web site, Coyuchi is a premier supplier of 100% organic cotton bedding and bath accessories as well as natural fiber clothes for adults and babies. Their products can be best described as elegant, so they wanted their packaging to be consistent with that image. But how do you make a brown box green, and elegant?
For starters, they committed to using Globe Guard 100% (PCW) recycled content boxes for their RSC shipping boxes and their corrugated die cut mailers. They also decided to design their packaging in a way that would enable them to communicate with their customers and literally drive home their message. Their tag line, "nature comes home," is tastefully printed on each box where it is likely to be the first thing the consumer sees. Then on the inside flaps and panels, where they were sure it would not be missed, they added their own eco message and a favorite, appropriate John Muir quote.
Pasolivo Olive Oil – Paso Robles, California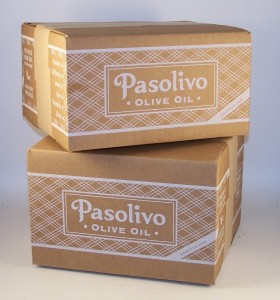 Two hundred miles south of Berkeley is the beautiful agricultural community of Paso Robles, famous for their coastal, mountain landscape and their excellent wineries. In addition to grapes, however, they also grow and process a wide variety of other organic crops including some of the world's most delicious olives, which is why Pasolivo Olive Oil is based there.
When they decided to redesign their shipping boxes for their wonderful selection of products, their goal was the use of eco friendly packaging materials to create a unique, warm finish. They produced the "wrap around lattice" design, and we provided a perfect substrate to print on with our Globe Guard 100% PCW boxes. The white ink they selected resulted in the perfect "antique white wash" look they wanted.
Our friends at Pasolivo also gave us a chance to show off our interior packaging design capabilities when they asked us to provide retention packaging that would not mar their beautiful new olive oil tins. See this previous ISP post on "Green Solutions for Interior, Protective and Retention Packaging" for more details on this part of the project.
These are two excellent companies who offer some of the best products in their respective markets, and we are thrilled they both decided to trust us as their supplier partner and Globe Guard as the green packaging product brand of choice.