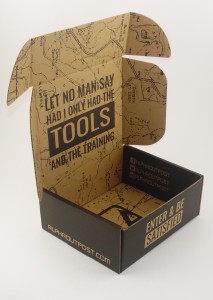 A corrugated shipping box does not have to look like, well… a plain brown box. Our customers appreciate that and see their box as a marketing tool that enhances the customer experience. It also helps to create and support their brand image and as we say,  it is "packaging that communicates™".
One of the things your packaging can say about you is that you and your company are unique, and creative. All it takes is the right structural box design, and a graphic artist with an imagination and a box can look like something completely different.
Alpha Outpost creates a box that looks like a map
These cool people wanted a box that is as unique as their subscription program and their web site. Check it out at www.AlphaOutpost.com.
The bold, masculine black exterior frames the antique map design beautifully, but the inside of the box is even better. This may be one of the most eye catching boxes we have ever helped create.
Salty Mermaid creates a box that resembles a treasure chest
You can visit their web site at www.saltymermaid.com and you will soon see the beautiful swimwear they ship to their customers. These are not standard, ho hum designs, so a standard mailer envelope or box would not be consistent with their product line and brand. We helped them create a box that is appropriate for their great looking swim suits. The cute interior print completes the positive and memorable customer experience.
IS Clinical creates a unique inside print on their box
To call them a cosmetic company would be an understatement because they are most obviously into the chemistry end of that industry. See their impressive product line at www.ISClinical.com . The outside of their mailer box looks great, but the inside is what is most memorable with a very different and attractive random repeat pattern.
Many of our customers are creating their first box and we have helped launch a few hundred subscription and e-commerce boxes so that level of experience is yours for the asking.
Please visit our gallery to see a few more examples of our work and contact us at Salazar Packaging or call us at 630-551-1700. Whether you want a box that is bold and wild or soft and gentle, we can help you create the look you want at minimal cost.
Related posts:
https://www.globeguardproducts.com/industry-experts/get-creative-with-your-new-subscription-or-e-commerce-box-design/
http://blog.salazarpackaging.com/sustainable-packaging/e-commerce-boxes-that-sparkle-and-shine/
http://blog.salazarpackaging.com/sustainable-packaging/litho-labels-for-exceptionally-attractive-e-commerce-shipping-boxes/
https://www.globeguardproducts.com/industry-experts/flexo-friendly-art-design-for-subscription-and-e-commerce-boxes/