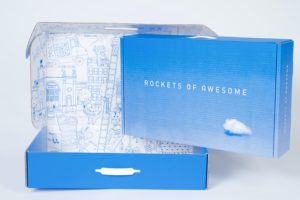 As I have often said, one the best parts about what we do is having the opportunity to work with really great, really cool new companies and products. It has never been truer than with one of our newest client customers, www.RocketsofAwesome.com
They are a great new company offering very stylish clothes at a great price for children sizes 2 through 14. Check out their site for a complete explanation of how their program works.
A Company with an Eye for Detail
What first impressed us about Rockets of Awesome was how meticulous they were being about every detail of their packaging design. Everything from the gently fading blue sky on the outside cover, the handle to make it easy to carry and enjoy after delivery, and the unique interior design that is sure to challenge every kid with a crayon or marker. They definitely had a vision and were looking for a good partner to help them accomplish it. We are grateful they decided to select Salazar Packaging!
Take a look at their very well designed web site and you are sure to see the quality of the company and the products they have for the young friends and family in your life.
If you want to talk packaging to see what we can do for you and your brand, please contact us at Salazar Packaging or call us at 630-551-1700. We will be glad to discuss your specific needs and project with you.
Related posts:      
http://salazarpackaging.com/adding-inside-print-to-an-existing-subscription-or-e-commerce-box/
http://salazarpackaging.com/litho-labels-for-exceptionally-attractive-e-commerce-shipping-boxes/
http://salazarpackaging.com/e-commerce-boxes-that-sparkle-and-shine/
http://salazarpackaging.com/drives-e-commerce-subscription-box-redesign-rebranding/