Each phone call and email inquiry we receive is a reminder that the vast majority of our initial customer contact is with someone who has likely never ordered custom packaging before, has little to no base knowledge of where to begin, what to do, or sometimes even how to explain/describe their needs in "packaging terms or language." It's almost every day that we hear a voice on the other end of the line apologize at the start of the conversation for not knowing the proper terms or how to start the process.
Our customers often rely on descriptions such as: pizza box, folding box, tab box or others to convey what type of packaging they want initially. We are always more than happy to clear up any confusion you may have about the custom packaging process, and we have a lot of experience working with first-time custom packaging customers. After all, many of our customers are first time entrepreneurs and subscription-based or D2C startups. We're not only in the business of selling packaging, but also in being one of the few companies that educates and informs our customers all along the way.
Custom Packaging Common Terms
Die Cut Mailer
Sometimes called: A pizza box, folding box, shipper
A box that is made with a cutting die, cut from sheets of corrugated cardboard. It is a one pice box, typically offered as a lock front or top tuck style.
RSC (regular slotted container)
Sometimes called: A standard box, or moving box
A shipping box with four flaps that close/meet in the middle at the top and bottom, typically sealed with tape at both ends.
Print Plates
Large rubber (stamp-like) sheets fixed onto a machine to roll ink over the box/board.
Flexographic Printing
A method of printing ink directly onto the corrugated board with print plates.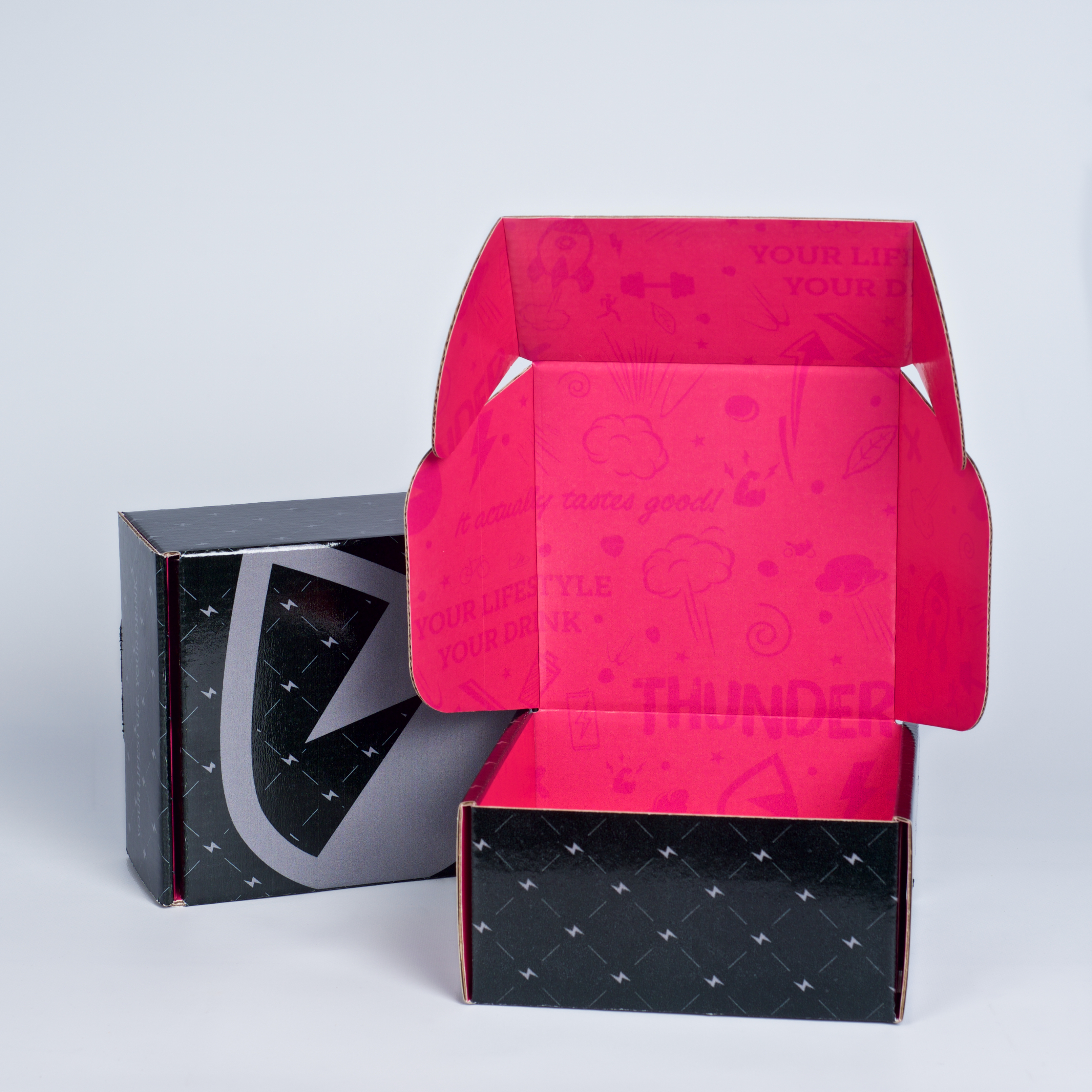 Digital Printing
A method of printing complex designs with ink being sprayed directly onto the board, similar to a computer printer placing ink onto paper.  (For more information, please see our Digital site).
Custom Packaging FAQs and Answers
What is your lead time?
Typically, on a first time order for custom printed boxes, we can ship within 2 weeks of final approved artwork.
How much do custom boxes cost?
There is no set price list for custom items. Pricing will depend on the specifics of each order. The information we need to begin a quote can be found here
Where do I upload my design?
The first step before focusing on design is to lock in on a box size. Once we have a size selected, we will send you the template for your design/artwork placement.
Can I have samples?
We are always glad to send specific samples to potential customers. We do not ship variety packs, "small/medium/large" boxes, and depending on where you are and how many you need, we may ask you to cover shipping costs.
How about a printed sample?
We cannot produce printed samples with your artwork ahead of production. Our machines require hours of set up time. However, you will receive a digital proof ahead of production, as well as an ink swatch, if needed. You may receive printed samples of boxes we have run in the past to check print quality.
Do you have the size I need?
Most likely. We have over 160 cutting die sizes available, and we very often do have a size that will suit your needs. We also have the ability to custom make a new size, if needed.
Help! I have a question that wasn't answered here!
Maybe your question was answered in another FAQ blog post here or here. If not, please do contact us today with any and all questions you have.
Please Contact Us Today
Have further questions about  common custom packaging terms? We're happy to walk you through an initial consultation and find a custom packaging solution that works for you. As always, if you have any questions, one of our branded packaging advisors is standing by to assist, with decades of experience behind them. Want to know more about custom packaging? Please call us today at 630-551-1700 or contact us via email at www.SalazarPackaging.com.
Related Posts:
https://salazarpackaging.com/the-cost-of-custom-printed-branded-d2c-packaging/
https://salazarpackaging.com/faqs-about-custom-printed-packaging-minimums/
https://salazarpackaging.com/what-are-your-most-popular-custom-printed-box-sizes-and-other-faqs/
https://www.globeguardproducts.com/industry-experts/reverse-prints-flood-coats-board-color-custom-branding-terms-simplified/
https://www.globeguardproducts.com/industry-experts/boxes/branded-packaging-checklist-subscription-e-commerce-box-programs/
https://salazarpackaging.com/why-dont-you-have-a-packaging-catalog-and-other-faqs/