There may not be a more unique stock product we offer than the Globe Guard® Reusable Box Sealer. It truly is a versatile, green product with a variety of packaging applications in the area of reuse, repacking and temporary closure. We are always amazed by the volume of customers who inquire and the glowing feedback we receive about the box sealers. Many of the product's uses are discovered and passed along by our customers through ideas and suggestions they have shared, and what have worked for them in their own warehouses, fulfillment centers and other places. One of our favorite stories was a customer using the product for easy close/open access for quick unpacking and repacking of their artwork at conferences and display shows.
The Reusable Box Sealer can slide on to almost any RSC box between the two major flaps, holding them closed temporarily for storage, product protection or other uses. When access is needed, the box sealer simply slides off, without compromising the quality or appearance of the box. This means the box can be reused in the same manner or shipped without any unwanted effects of having been taped or cut into.
Reusable Packaging to Minimize Cost, Reduce Waste and Save Time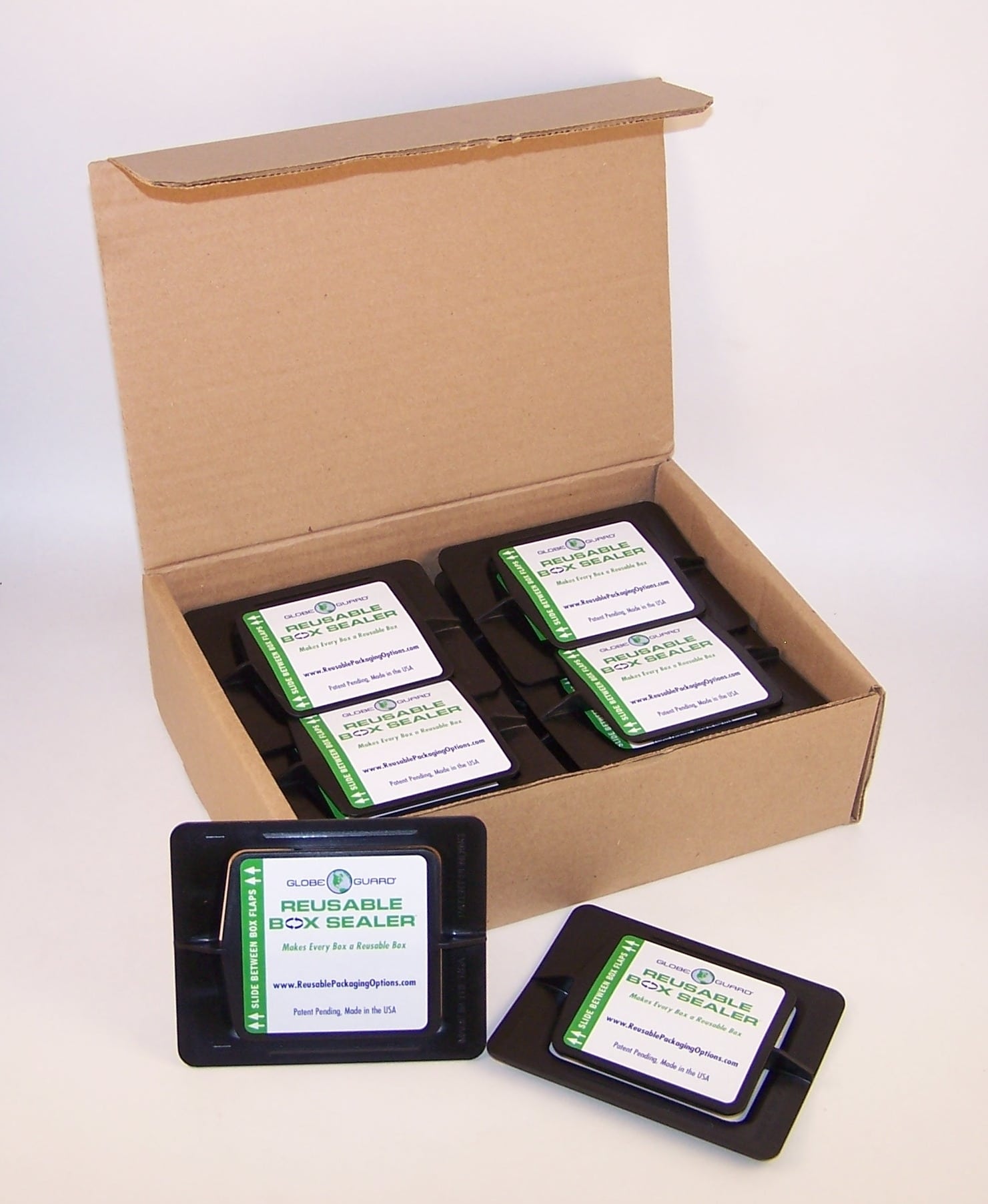 Reducing waste and minimizing packaging materials has many environmental benefits, but "reusable" as a packaging concept also often means great bottom line savings. Consider the need for tape, adhesives, or other expensive temporary closures (bands, staples) as an alternative to the reusable box sealer. These solutions often require labor, are a one-and-done product and typically render the box damaged or unusable. Tape may be unnecessary in warehouse or inventory situations where only temporary closure is needed, or when easy or frequent re-access to the contents is required.
Bottom line: The reusable box sealer eliminates the need for these other closures, while extending the life of the box itself and saving time and labor in the process.
The box sealer is itself made from a heavy-duty ABS recyclable plastic, adding yet another eco-friendly benefit. We offer starter packs of both 20 and 50 piece sets with free shipping for immediate purchase on our stock webstore, Globe Guard® Products. Bulk orders can also be accommodated by calling 630-551-1700 or contacting us at Salazar Packaging.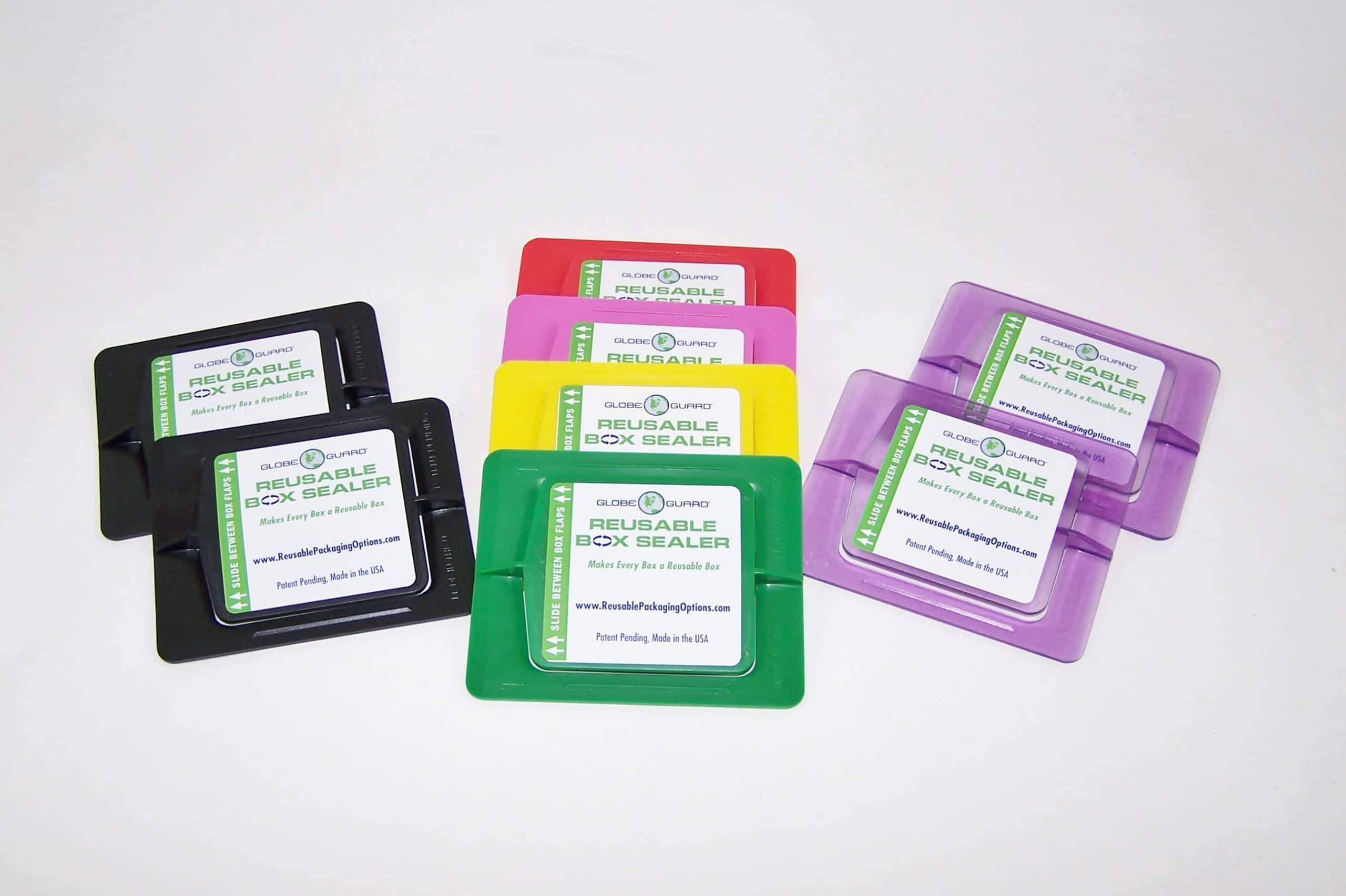 Custom/Special Orders are Available at Request
At Salazar Packaging, we specialize in custom packaging solutions. Our box sealers are a popular stock product, but we do offer custom alternatives as well, such as a large sealer that measures 5-3/4 x 4-3/4, compared to our regular sealers measuring 4-1/4 x 3-1/2. These large sealers are ideal for many RSC boxes, big or small, including boxes with oversized flap gaps, and are available at a 1,200 piece minimum.
Minimums and specific pricing will apply to any custom order, but if you have a need for box sealers that is not fulfilled by our stock supply (higher quantities, different colors, branded labeling, different sizes etc.) we encourage you to reach out to us to see if a custom solution is possible.
Please Contact Us Today
We're happy to lead you to a packaging solution that works for you. As always, if you have any questions, one of our branded packaging advisors is standing by to assist, with decades of experience behind them. Want to know more about custom packaging options? Please call us today at 630-551-1700 or contact us via email at www.SalazarPackaging.com.
Related Posts:
https://www.globeguardproducts.com/industry-experts/globe-guard-reusable-box-sealer/
https://www.globeguardproducts.com/industry-experts/boxes/globe-guard-reusable-box-sealer-perhaps-perfect-sustainable-packaging-product/
https://salazarpackaging.com/globe-guard-reusable-box-sealer-brings-order-to-warehouse-chaos/