As you can see by the number of related posts at the bottom of this page, water activated custom printed paper tape is a product we have written about many times in the past, and will continue to because it is truly one of the most underrated and often overlooked custom products we offer.
Many of our subscription and DTC startup customers want to launch with branded boxes, but for a variety of reasons (economical, minimums or otherwise) are unable to do so. While our minimum of 1,000 boxes is relatively low by industry standards, many customers simply may not be in a position to afford the boxes, the print plates, or the shipping costs, or may not have the means of storing a pallet of boxes when space is limited. Branded paper tape is a low cost, low minimum, eco-friendly alternative or complimentary form of packaging that can convey your branding to your customers without the downside of high set up costs that many startups simply cannot afford in the infancy of their business.
Affordable DTC and Ecommerce Branding
What I like most about custom WAT is its simplicity. Sometimes your actual brand name or the main focus of your brand/message may be lost on a box or envelope design that is elaborate and extensive and sometimes distracting. Some people are creating some beautiful graphics and designs, but in many cases, they may be doing so at the expense of their own brand or company name. Everyone has seen a commercial they laughed at or loved that was very memorable, but the product being sold or the company name or message was lost in the process. Custom tape directs the customer's focus, drawing attention to your brand/logo or tagline to avoid this issue.
Eco-Friendly Features and Customization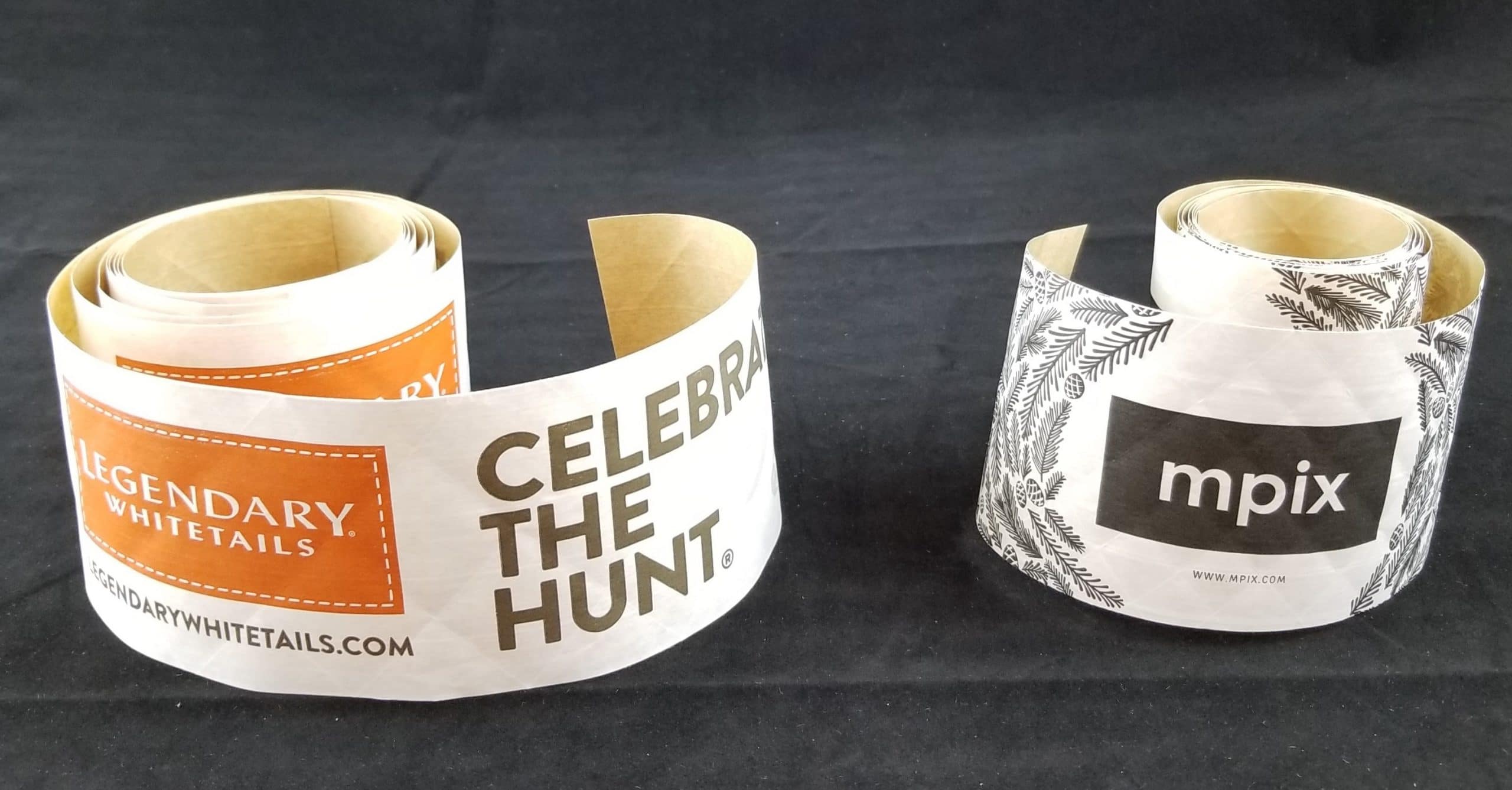 Custom WAT (water activated tape) is available at a low 6 case minimum, and can be branded up to 3 colors. Art/layout and print plate costs are always $100.00 or less on a first time order. Custom WAT is available in kraft both sides, or kraft with a white exterior as pictured right. As you can see, a variety of designs are possible, including screen prints and pantone (PMS) color ink matching at additional cost. Custom tape is an especially economical option if you are considering multiple box sizes, because custom printing on each box would require print plates that run on average $400-600 per color for each box size you want printed.
Our paper tape is a natural, biodegradable and recyclable product that is an eco-friendly, stronger and more durable alternative to plastic tapes or other closures/seal options. It can be recycled along with the box or envelope it is adhered to, and this sometimes cannot be said of many plastic tapes.
Water activated tape does require an applicator, and although we no longer sell them, we can happily point you in the right direction on where to find one.
Please Contact Us Today
Want to know more about Custom Printed Paper Tape? We're happy to walk you through an initial consultation and find a custom packaging solution that works for you. As always, if you have any questions, one of our branded packaging advisors is standing by to assist, with decades of experience behind them. Want to know more about custom packaging? Please call us today at 630-551-1700 or contact us via email at www.SalazarPackaging.com.
Related Posts:
Eco-Friendly Water Activated Tape