In the world of e-commerce and subscription services, branded packaging is becoming a necessity in a highly competitive market. Company taglines, logos, URLs and social media tags are appearing on almost any package you receive via UPS, FedEx or standard mail. This can be accomplished in a variety of ways including flexographic printing direct onto the box or container, digital or offset printing, or even labels. But perhaps one of the most overlooked options is custom branded paper tape, which perfectly combines the fashion of branded packaging with the function of a strong, lasting seal to protect the contents within.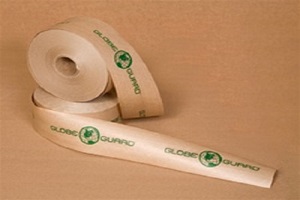 Water activated tape is very eco-friendly, and as such is available on our Globe Guard ® Products store for immediate purchase by the case in either plain kraft, printed with the Globe Guard ® brand, or customized with your own branding (at a 6 case minimum). Branded paper tape can be much stronger, more durable and effective than plastic tape by comparison, and it is a natural, biodegradable and recyclable alternative. Water activated tape does require an applicator (sold here) but our tape customers receive a 10% discount on all applicators when purchased through our store.
Eco-Friendly Branding at Minimal Cost
When compared to alternative printing methods, custom printed water activated tape (CPWAT, for short) is rather cost-effective. Print plate, proof and startup costs are generally in the $50-100 range, depending on the number of colors printed as a onetime expense. When compared to plate pricing for printed boxes ($400-800 on average) the savings are extensive. This is even more true if you plan on shipping/branding a variety of box sizes. While each size would require a separate print plate for flexographic box printing, you can use the same branded tape across all of your boxes and envelopes regardless of size. Additionally, if you are shipping product, you are almost always purchasing tape or another closure already, so buying branded tape is very minimal additional expense.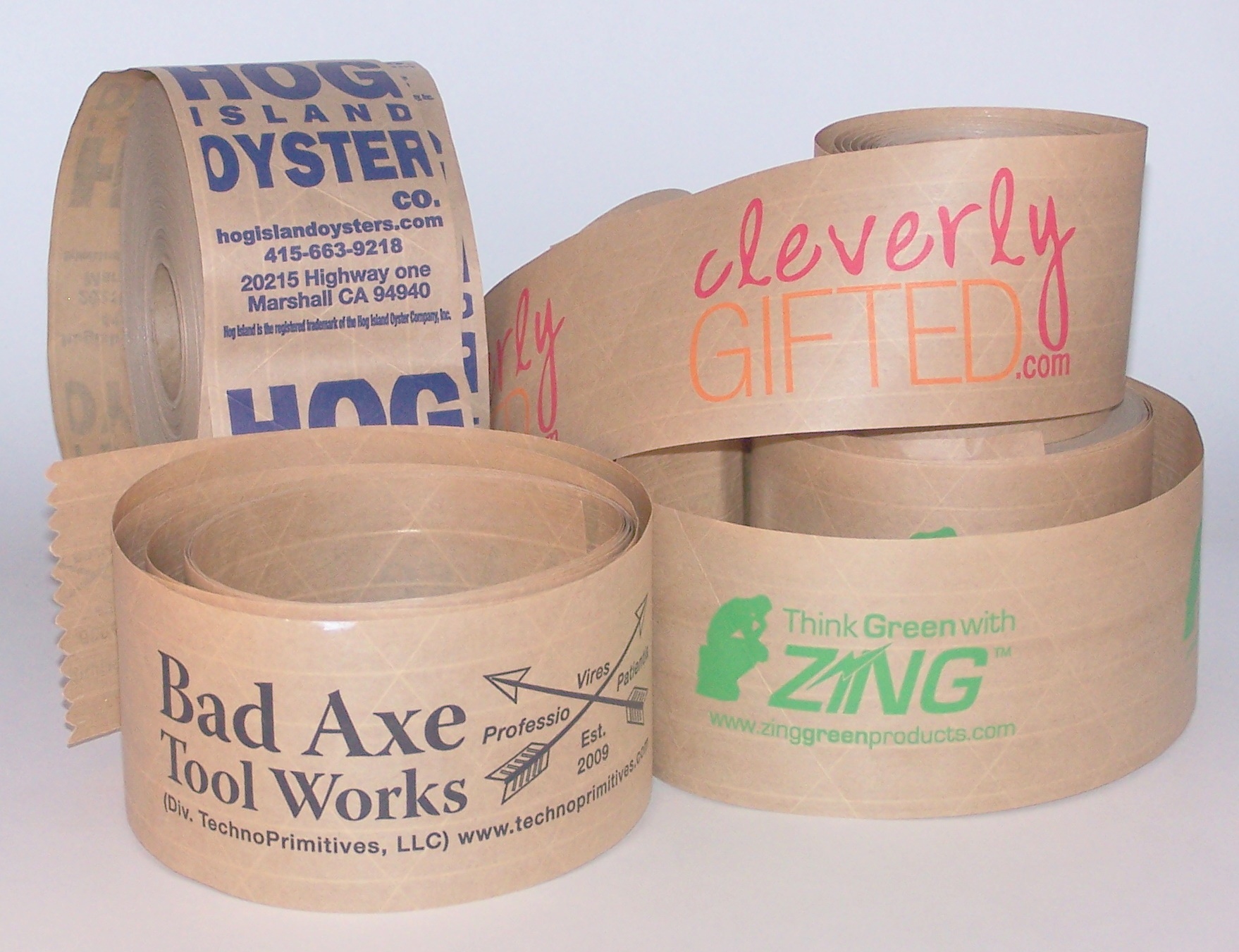 We can accomplish a variety of prints, including 1-3 colors, screen prints (pending design approval) and color-matching available on either white or kraft tape. The only way to know for sure if your design is printable is to reach out to us via the contact information below and speak to one of our branded packaging advisors.
Please Contact Us Today
Want to know more about branded paper tape? We're happy to walk you through an initial consultation and find a custom packaging solution that works for you. As always, if you have any questions, one of our branded packaging advisors is standing by to assist, with decades of experience behind them. Want to know more about custom packaging? Please call us today at 630-551-1700 or contact us via email at www.SalazarPackaging.com.
Related Posts:
https://www.globeguardproducts.com/industry-experts/eco-friendly-custom-printed-water-activated-tape/
https://salazarpackaging.com/which-is-best-custom-printed-rsc-boxes-versus-custom-printed-tape/
https://salazarpackaging.com/green-packaging-solution-how-to-add-brand-value-and-effectiveness-with-low-cost-custom-printed-paper-tape/
https://www.globeguardproducts.com/industry-experts/boxes/buyers-guide-rsc-style-die-cut-mailer-boxes/