Many of our previous paperboard blogs have focused on cartons, specifically, because they happen to be one of our custom products that we also offer in a variety of stock sizes that do not require tooling costs. Standard cartons—whether in stock sizes or custom sizes—are great for primary packaging for many products, including cosmetics, CBD bottles, droppers, perfume/colognes, and many others as pictured below. But the beauty of paperboard packaging is that you are not limited to a square or rectangle-shaped solution if your product happens to not fit into the standard carton concept. Paperboard is a versatile packaging product, and a variety of unique designs can be achievable, in many cases for the same minimums as a "standard" custom carton.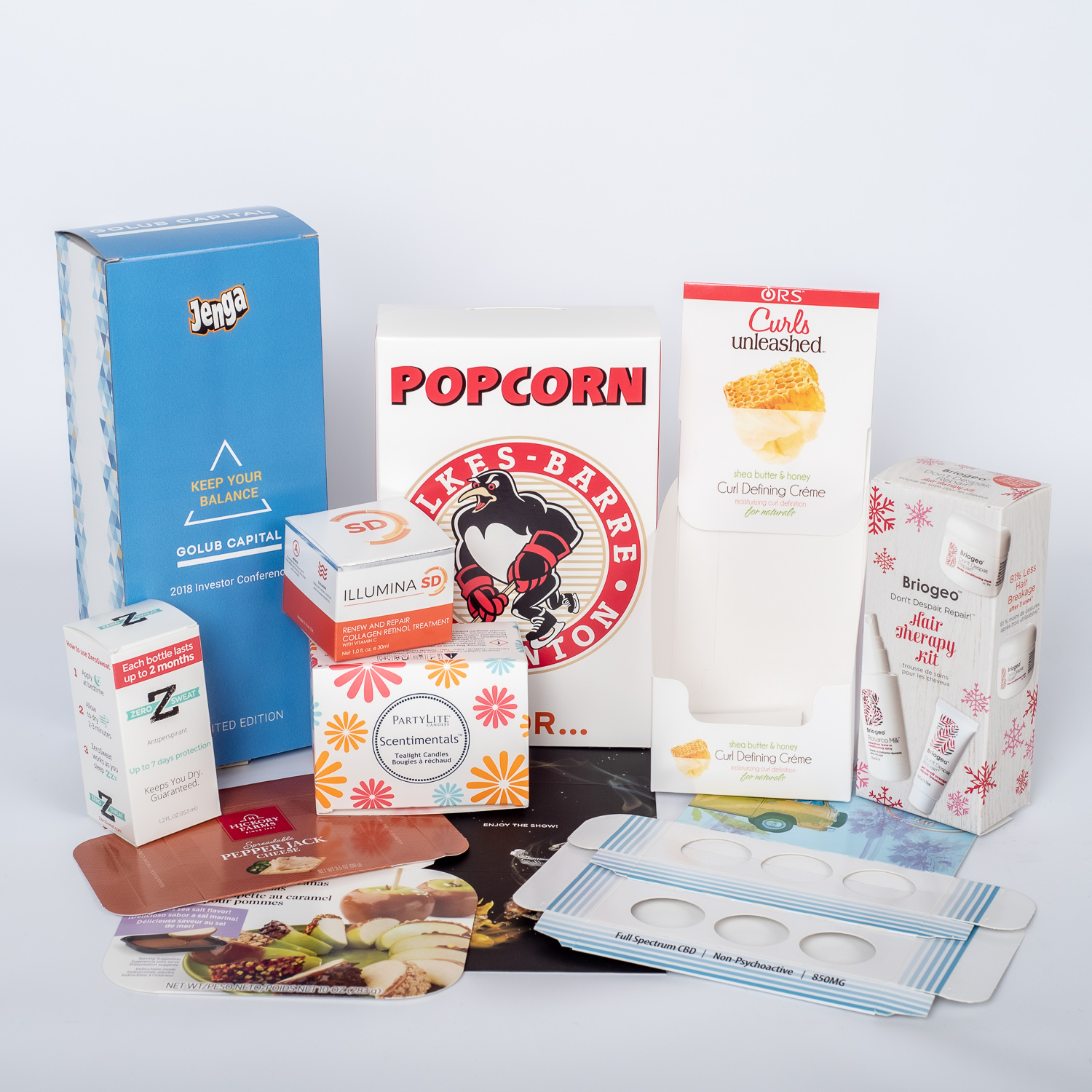 What Structural Designs are Possible with Paperboard?
Hanging tags, pop up displays, folding booklets, pillow pouches, sleeves, cartons with windows (open or with plastic film), and many other varieties of unique structures/shapes are possible with the right order quantity and the willingness to pay for the custom tooling cost. These cutting die costs will vary, but typically fall in the $600-1200 range and are a one-time fee.
Inserts are also possible and in many cases a good solution to better protect product within a corrugated or paperboard container. Paperboard inserts can come in many forms from simple dividers, partitions or "footsteps" to lift product up and reduce empty space within a carton, to more complex designs that hold product firmly in place within primary or secondary packaging.
What are the Minimums and Pricing?
Our standard custom paperboard application minimum is 2,500, but we can sometimes accommodate as few as 1,000, although this would typically depend on the size of the product (how much board is needed) as well as other factors, including graphics, board grade and color.
Similarly, there is no set price for paperboard packaging, as each application will depend also on the specifics of the individual project. Again, for anything that is not a stock carton size (please contact us to learn about the stock sizes we offer, as availability varies) there would be tooling costs. There may also be print plate or proof costs for custom printing, depending on your graphics.
What Graphic Designs are Possible?
If you can dream it, the chances are pretty good we can print it. Most paperboard designs are offset printed, meaning a wide variety of designs can be accommodated, including multiple colors, photo-quality images, gloss coatings, embossing, debossing, foil and edge to edge bleeds with often minimal print plate costs. Coated board options also give you the ability to have a shinier and smooth-touch finish. Or, if you are looking for a more natural, eco-friendly look, you can print a simple 1 or 2 color logo on kraft paperboard.
If you would like to know more about paperboard packaging, please reach out to us via the link or phone number below. If you have not already done so, please also visit our Paperboard Packaging Page at Salazarpackaging.com.
Please Contact Us Today
We're happy to help you find a custom packaging solution that works for you. As always, if you have any questions, one of our branded packaging advisors is standing by to assist, with decades of experience behind them. Want to know more about custom packaging options? Please call us at 630-551-1700 or contact us via email at www.SalazarPackaging.com.
Related Posts:
What's New in Paperboard Packaging?
Buyer's Guide to Retail and Display Packaging