We're sure there are times when fist-time visitors to our green packaging store are surprised by how many different green packaging solutions we offer. Other times, though, new visitors can be disappointed by what a relatively small selection we appear to have available.
Visitor comments range from "I had no idea there were so many different types of eco friendly packaging products available" to "I want to use your product but you don't carry the box size I need." The fact is that we offer a lot more items than we show on our store, and I periodically like to remind potential customers that we are truly a one-stop shop for ALL of your green packaging needs.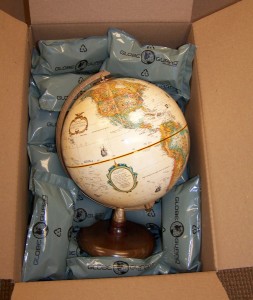 Globe Guard® RSC Style Shipping Boxes
We show more than forty of our most popular sizes, but we can make virtually any size that you could possibly want. We have made RSC boxes as small as 3"X3"X3", as large as 48"X 48"X48" and as long as 96", so whatever you need, we can produce it from the same 100% PCW board we use for all of our Globe Guard® Boxes.
Globe Guard® Corrugated Die Cut Mailers
On our store, we list 11 sizes of die cut designs, but we have a long list of other sizes that quite frankly are not as popular, so they are not added to inventory or the web store. In other cases, they are simply too close to another stock size, so their appeal would be limited. For example, we have a 6"x6"x2" die available and can produce that size right away, but it would probably conflict with our very popular 7"x7"x2". On the large end, we offer a 14.5"X 9.5"X3" high mailer and also have a die for a 6" version of the same box but choose not to stock it because of limited interest in extra tall die cut designs.
Once again, we can do a lot more than we show, so contact us if you have a specific need and we almost certainly will be able to satisfy it.
Globe Guard® Mailer Envelopes
We offer padded paper, unpadded paper and bubble cushioned plastic mailers in a wide range of sizes, but not everything we have available is listed. If you have a unique construction requirement, a custom size, or you want them custom printed, all you have to do is ask. We can do it, economically and incredibly well.
Interior, Cushioning and Protective Packaging
We are proud to feature one of the best assortments of solutions available, including oxo-biodegradable bubble packaging, four different types of packaging paper and a rare, stock molded pulp product. However, not every width, size or grade of product is shown.
Just to name a few non-stock product options, we also manufacture custom-molded pulp in almost any size or configuration and we offer both 100% recycled content and 100% biodegradable inflatable air pillows for "pick and pack" void fill applications. We also provide custom engineered solutions for especially difficult applications.
We may not have the largest web site and we will never print a catalog, but that is just fine with us. We never intended to be the largest packaging supplier, just the greenest.