DTC packaging trends are constantly evolving. We're seeing a lot of unique and interesting skincare, health, beauty and personal care companies that are all trying to stand out from one another to provide their customers with a memorable and lasting unboxing experience. Because their products are typically high-end, luxurious, and their primary packaging is usually reflective of this, often the desire is for their mailer boxes to reflect this as well. After all, the customer orders fragrances, lotions and other cosmetic items with a certain expectation, and the last thing you want is to ship a beautiful product presented in a plain shipper packed with void fill. Or worse, for that customer to receive their product damaged during transit.
Custom branding and custom inserts are a good solution to both problems, and make for a great balance of both presentation and protection. Below are some of the trends that are happening with cosmetic packaging, and information about the processes of each.
Custom Printed Inserts
Be it a flood coat print, or a design, repeat pattern or other graphics, a printed insert is always a great way to add extra contrast, style or pop with the rest of the packaging and product. Typically, a flood coat print will not require a print plate cost. Inserts can be digitally printed as well for those unique multi-color, complex designs.
Paperboard Cartons and Inserts
Inserts can hold product within a mailer box during transit, but they can also be made to hold a product within a primary container like a paperboard box for added protection. Like corrugated, paperboard inserts will typically require tooling costs, but will likely be less expensive on a per cost basis. Please click here for more information about the benefits of combining paperboard and corrugated packaging.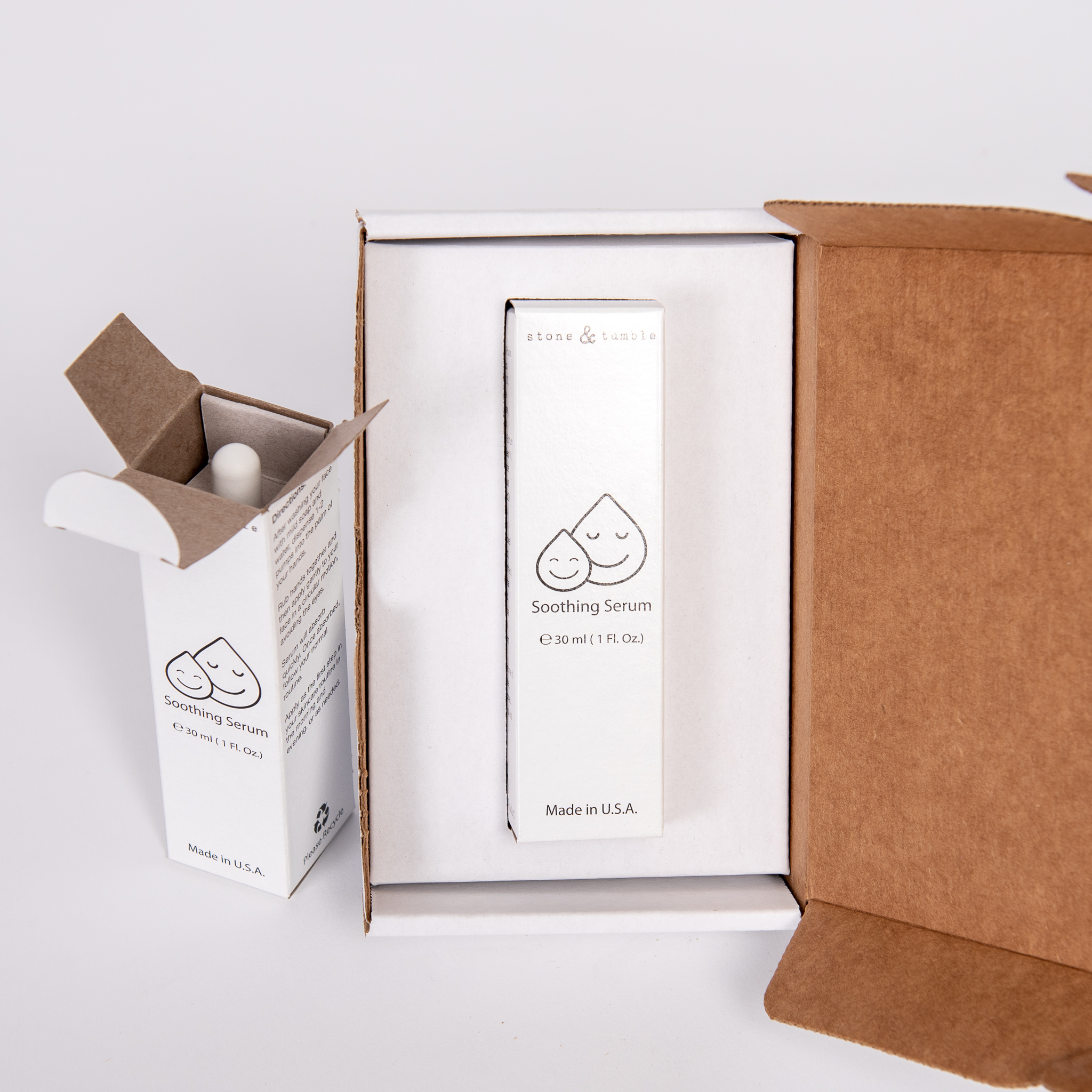 Multi-Color Prints
Prints that pop with multiple colors are becoming quite popular among cosmetic companies. Many multi-color designs can still be printed flexographic, with some exceptions, but as you can see below the beautiful results of flexo-friendly designs in a variety of colors. Keep in mind that every color does require its own print plate inside and out, but these are a one time cost, provided you keep the same design and box size on reorders.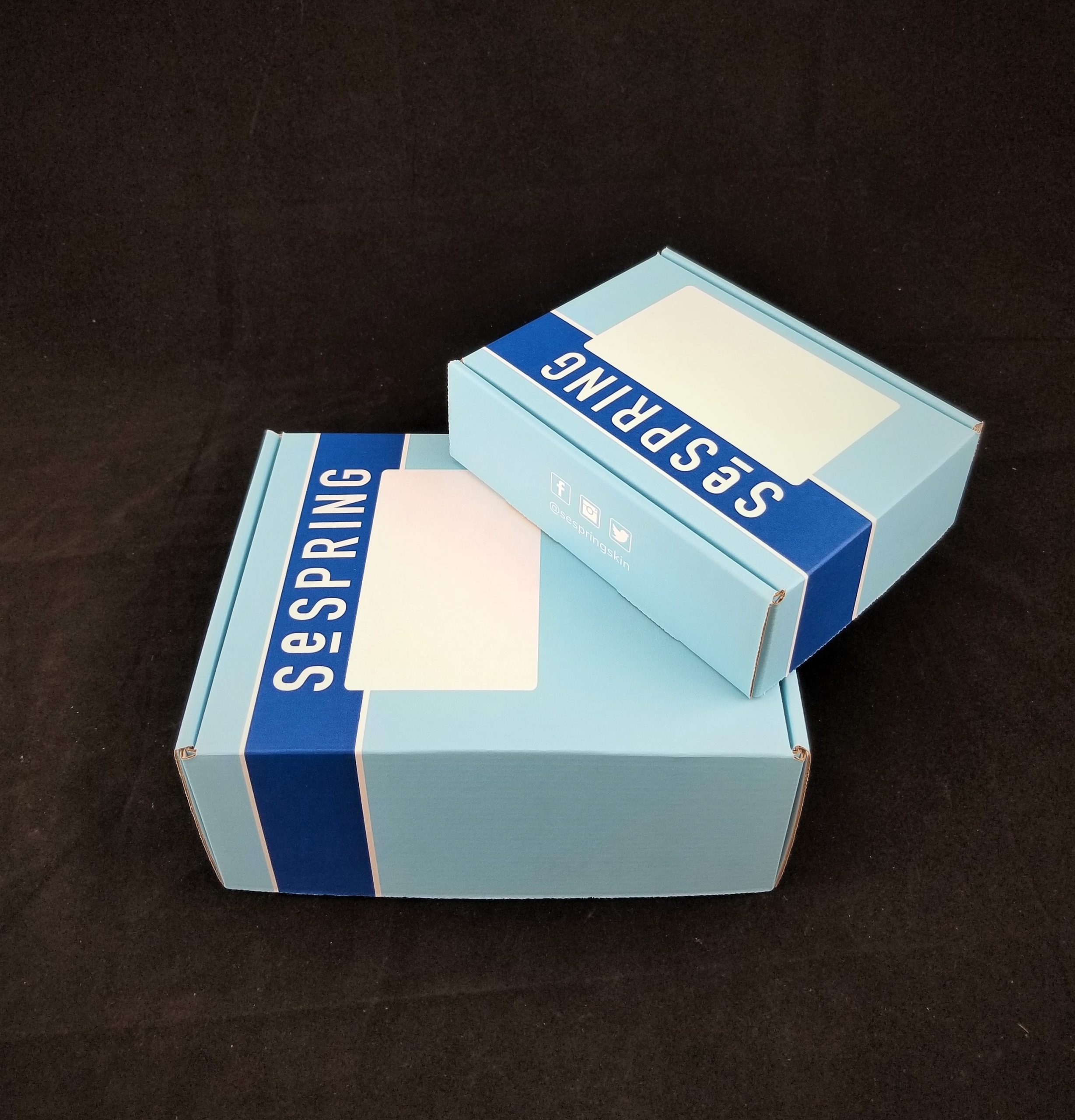 Reverse Prints and Flood Coats
Both of these options feature heavy ink coverage, which often make for a more eye-catching, attractive box. Reverse prints are often an effective way to get two colors for the price of one, using the board color of the box to present your logo, text or graphics. While reverse prints typically do require higher print plate costs, flood coats can usually be done with matte plates that we keep on hand at our plants.
E Flute and Triple White Board
As a general rule, typically the smaller the box size, the thinner the fluting. E Flute is often a preferred choice by cosmetic brands because a thinner flute is less noticeable and many find it more attractive than B flute. Triple White Board is another feature, where the corrugated medium/fluting is white to match the board inside and out, and gives a very clean, sharp look to the overall box. Minimums and pricing may be higher, but the benefits are undeniable.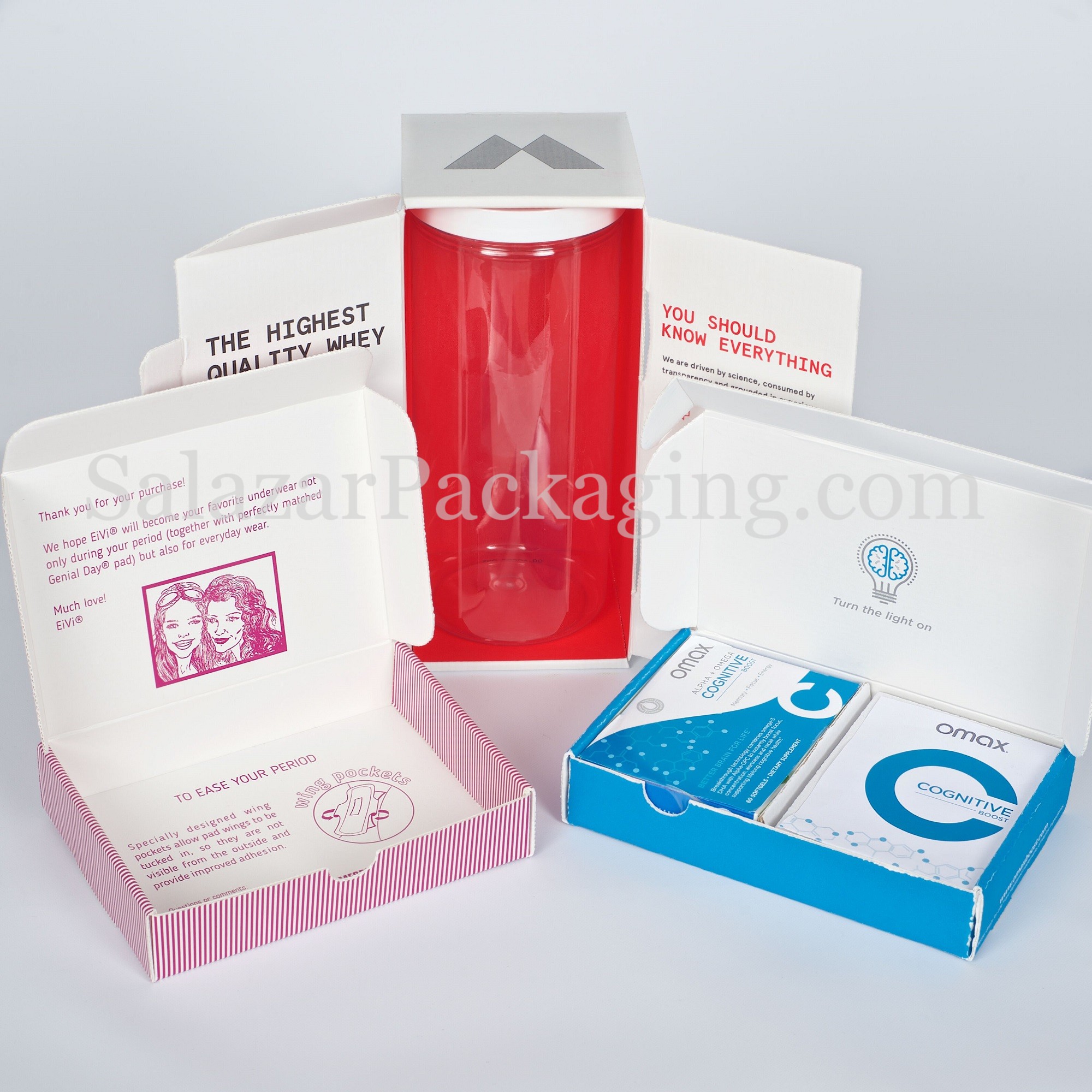 Please Contact Us Today
Want to know more about the latest DTC packaging trends? We're happy to help you find a custom packaging solution that works for you. As always, if you have any questions, one of our branded packaging advisors is standing by to assist, with decades of experience behind them. Want to know more about custom packaging options? Please call us at 630-551-1700 or contact us via email at www.SalazarPackaging.com.
Related Posts:
https://www.globeguardproducts.com/industry-experts/whats-new-in-custom-paperboard-packaging/
https://www.globeguardproducts.com/industry-experts/the-buyers-guide-to-custom-packaging-exploring-all-branding-options-for-dtc-and-ecommerce-businesses/
https://salazarpackaging.com/combining-paperboard-and-corrugated-for-maximum-dtc-unboxing-experience/
https://salazarpackaging.com/popular-micro-flute-board-options-for-e-commerce/
https://salazarpackaging.com/e-commerce-boxes-beauty-health-personal-care-products/