Salazar Packaging has established over a decade-long reputation of working with customers across the country, from coast to coast. However, we still get excited to work with the many local companies in the Chicagoland area who contact us with packaging needs. Strong Selfie—a subscription gift box catered towards teenage girls and providing positive, empowering messages and inspiration for their day-to day lives—are our neighbors the next town over in Naperville, IL. When they contacted us at the start of the new year, it was for a graphic redesign and rebranding of their existing mailer.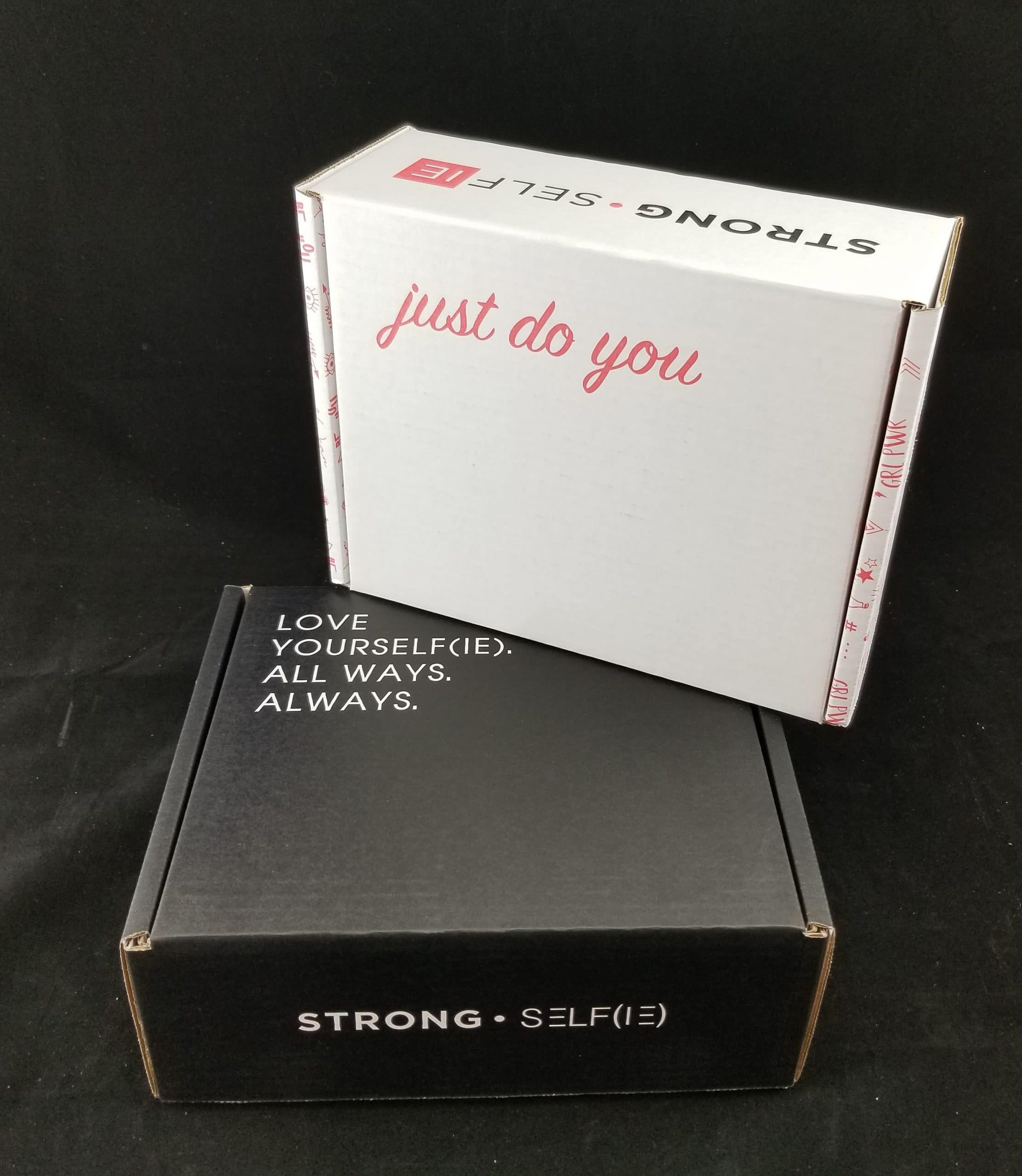 Strong Selfie's initial DTC mailer was a 2 color design on a white box with the company name, a brief description underneath and some rather creative graphics and a tagline that spoke to the company's overall brand and message. Their newest box is a heavy amount of ink coverage in black, with a reverse print. On this mailer they included their website URL as well as hashtags and new taglines. The result is a beautiful contrast in style and color to their initial mailer.
How Much Does it Cost To Rebrand?
The answer to this question will always vary according to many factors (box size, board color, graphics, quantity), but often the cost can be minimal. If the size of the box is not changing, that's a good start. For flexographic printing, graphics are typically priced according to how many colors printed on how many sides (sides meaning inside and outside). So a 2 color design outside should look almost identical in pricing to another comparable 2 color design outside. Ink coverage will not greatly affect cost on a per box basis.
Print Plates are the biggest factor to consider, as any change in graphics will require new print plates. However, they are a one time expense, and typically will cost $400-600 per color in most applications. However, in cases of complete edge to edge print (flood coats) of solid color with no other graphics, typically we can use a matte print plate to print without the need for you to purchase a print plate.
What are the Reasons for Rebranding or Redesign?
Rebranding does not always mean, and in fact, seldom does it mean, that the company did something wrong with their first design. It simply means that all companies grow, change, evolve and adapt. Often, the ones that are the best at staying ahead of the next trends and keeping an open mind to how they will best fit within that trend are usually the most successful.
The reality is, many companies who redesign their packaging still use their initial design in some capacity. But presenting a new look to your customers can do wonders to speak to the way your company is aware of popular trends, or, more importantly, listening to your customer's feedback and the way the unboxing experience is being received. Everything from the box graphics, to the product presentation, to the product protection should be evaluated, as these are likely the details the customer is paying attention to, and the ones they are sharing with the public on social media.
Another reason to rebrand might be to lower costs. If you wanted to launch with a high-end digitally printed box with complex graphics and photo quality images, perhaps you want to cut costs by switching to a flexographic print for consistent high volume orders. On the other hand, if you use a flexographic printed box for your monthly subscription DTC packaging, perhaps you want to consider a digital print for one-time promotional, holiday or gift packaging in lower quantities. As we like to say, the specifics of the application typically dictate the best solution for you and your brand.
The bottom line is that the box you launch with does not have to be the box you keep forever. Luckily, we have the experience to guide you in the process along the way as your company grows and evolves.
If you want to know more about Strong Selfie, their story or their products, please visit their website.
If you want more information on packaging solutions, please see our contact us information below.
Please Contact Us Today
Want to know more about Rebranding options? We're happy to lead you to a packaging solution that works for you. As always, if you have any questions, one of our branded packaging advisors is standing by to assist, with decades of experience behind them. Want to know more about custom packaging options? Please call us today at 630-551-1700 or contact us via email at www.SalazarPackaging.com.
Related Posts:
Redesign your DTC Ecommerce Packaging
Ecommerce Packaging for Influencers and Creators