In subscription and Ecommerce based models, a right-size vs. a wrong-size box (too big, bulky, heavy or not the best fit for the product) could mean the difference between the success or failure of the business long-term. At Salazar Packaging, we see this firsthand on a daily basis. We are fortunate enough to have worked with a large number of companies that fall under a wide variety of categories (please see related links below), and we can truly say that one size does not fit all. Our goal is always to help you find the right packaging solution for YOUR product and YOUR business, so that you can minimize your cost and maximize profit.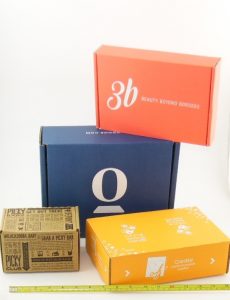 Why Right-Size your Subscription Box?
A smaller box uses less corrugated board for a lower cost per unit.
A smaller box will also be less expensive to store, ship (to you) as well as ship from you or your fulfillment center to your customer.
Right-sizing your box means reducing the need for or amount of void fill or cushioning.
Minimizing unnecessary space allows for the product(s) to fit in a more protected, secure and stable manner that will reduce the risk of damage during shipment.
A box that is oversized in comparison to the product may leave the customer questioning the value they are getting with your subscription.
We Have Many Stock and Custom Sizes Available
Whatever your product, it's likely we already have a right-size solution. If you have ever visited our online webstore, https://www.globeguardproducts.com/ you will see that we offer 21 different stock sizes for immediate purchase of unprinted boxes in low minimums. Additionally, at a MOQ of 1,000, we have over 130 cutting dies from which to offer the ultimate flexibility of size options to best fit your product. If needed, we can also custom make any size to your specifications with the one time cost of a new cutting die (typically $600-800).
Remember that while right-sizing your box may not be your area of expertise, it is ours, and that's what we're here for. Contact Salazar Packaging or call us at 630-551-1700 for a no cost and confidential review of your packaging goals or challenges.
Related Posts:
Packaging for Eyewear and Contacts