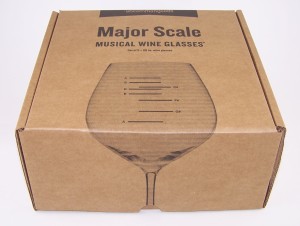 When your name is UncommonGoods, you are expected to offer unusual, beautiful products and gifts sure to make a great impression.  When the newest, "hot" product is as attractive and unique as their new Major Scale Musical Wine Glasses™, you cannot use a plain old corrugated box to package it. These goblet size glasses are beautiful lead free crystal and understandably fragile, so determining the best internal packaging was even more important than the box appearance.
How to Avoid Multiple Suppliers
The challenge when you need different packaging components is to find the best company for the job. However, you would prefer to avoid dealing with multiple suppliers to minimize cost, avoid delays, simplify communications and achieve "single source responsibility". The best way to accomplish that is to identify one company willing and able to assume complete responsibility, with the resources and experience, to utilize the best manufacturing partners for each part of the job. That includes behind the scenes players like plate makers, who know how to create a quality image on corrugated board.
The Internal Packaging
The first objective was to determine the best internal packaging for the application. In this case, we all agreed that molded pulp would be the best solution because of its excellent "eco obvious" consumer rating which essentially says people immediately recognize molded pulp trays as recycled paper and regard it very favorably in terms of its eco friendliness.
Even more importantly, properly designed molded pulp trays provide the protection and cushioning the glasses require without the potential recycling issues resulting from various plastic solutions such as foam wrap or bubble packaging. Molded pulp trays are very easy to use, saving time and making it virtually impossible to incorrectly pack the product being shipped. The molded pulp tray we designed can be used as top or bottom so only one packaging SKU is needed.
The Globe Guard® Box
Only after successful design of the internal packaging were we able to create the box for it to fit into. Some companies and customers would simply find a box that is close to the correct size but understanding how critical the "fit" is, between the trays and the box, the right thing to do was to create a rugged box, with a perfect fit, utilizing a die cut mailer design for added strength.
After that was all done, we provided a template of the new box to the UncommonGoods graphic artists who then proceeded to create the look shown in the photos included in this post. The goal was to create a very sharp look with one color and one print plate. The use of screens by our plate maker and box maker permitted the end result of a grayscale, black and white photo type image on the cover wine glass and great definition on the reverse print copy as well as clarity for the bar code.
This all sounds much easier than it really is, but the key is that we helped to make it as easy as possible by knowing what had to be done and assembling the correct players to make it happen.
If you are looking for a unique gift this holiday season for that hard to please person on your gift list, please consider the Major Scale Musical Wine Glasses™. Your gift will be appreciated and not likely to end up being a duplicate gift.
If you are looking for a good packaging supplier, able to help you overcome your own custom packaging challenge, call us at 630-551-1700 or contact Salazar Packaging for a review of your project.
Related Posts:
http://blog.salazarpackaging.com/sustainable-packaging/the-pros-and-cons-of-custom-printing-boxes-on-white-corrugated-board/
https://www.globeguardproducts.com/industry-experts/custom-printed-and-branded-corrugated-boxes-achieve-great-designs-by-avoiding-common-mistakes/
http://blog.salazarpackaging.com/sustainable-packaging/colorful-ladies-create-eye-catching-boxes/
http://blog.salazarpackaging.com/sustainable-packaging/faq-regarding-custom-printed-packaging-minimums/
,