We've written a number of blog posts about the comparisons between custom printed RSC boxes and die cut mailers. Many of these speak to the benefits and drawbacks of each, both from a cost and design standpoint. Previously, one of the greatest benefits that die cut mailers had over RSC boxes was the ability to print inside, adding extra branding real estate and protection for your design against the shipping elements that outside printing will unfortunately encounter (scuffs, scrapes, weather damage etc.). Now, for the first time at Salazar Packaging, we are offering RSC boxes with interior prints. While previously inside printing on RSCs was technically possible with expensive cutting dies and inefficient processes, new advancements in machinery has allowed us to print inside of an RSC without the need for expensive dies or additional passes through the machine—meaning not only is printing inside an RSC an attractive feature, it's also affordable.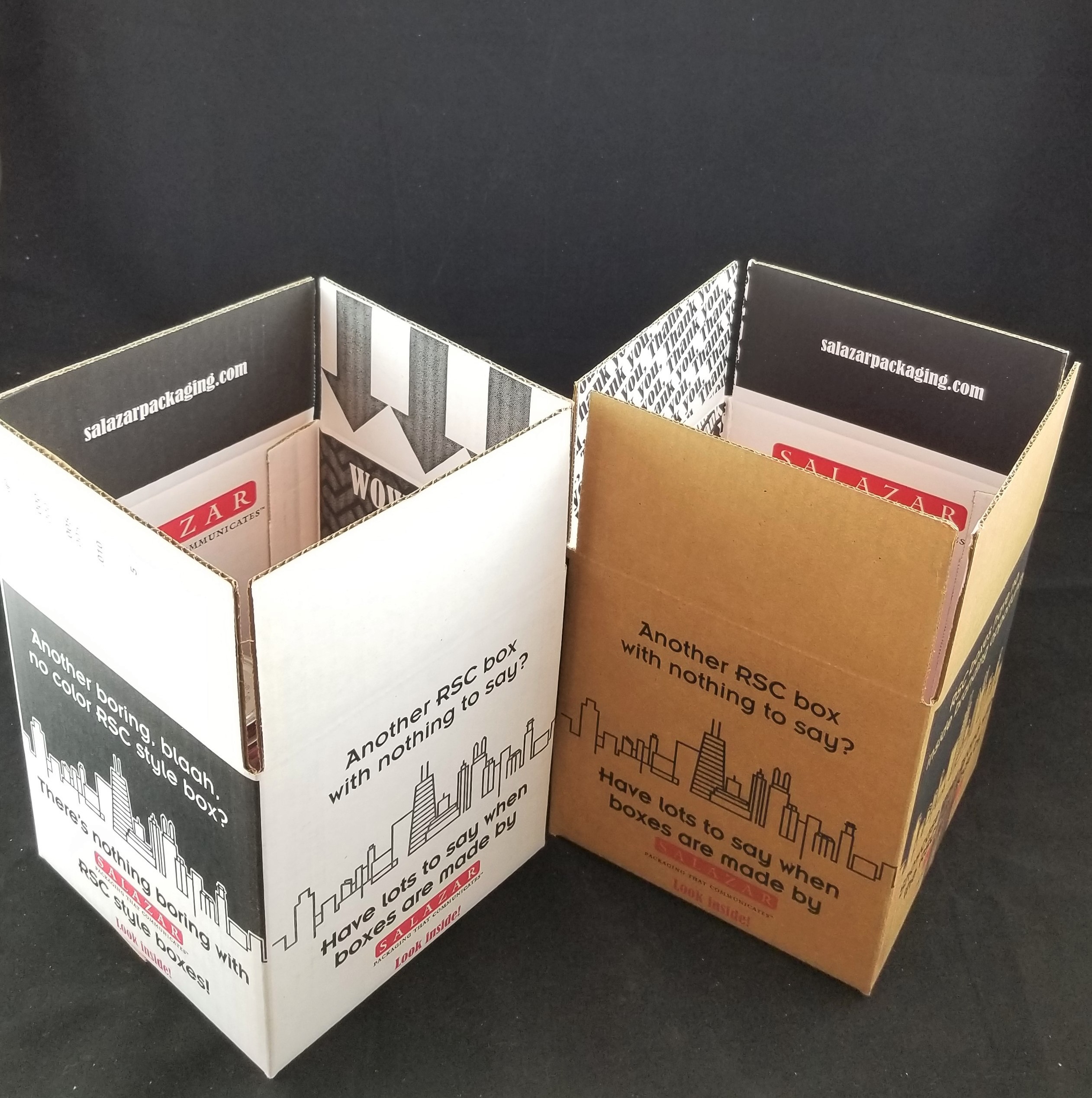 What is the Cost of Inside Printing on an RSC?
Amazingly, there is not a significant increase in cost for RSC boxes with interior prints. This is due to the fact that our equipment can print both sides of the board in a single pass, instead of the way die cut mailers are printed (one side of the board first, then the other side as a second pass). As such, an RSC, even with inside print, will still almost always be less expensive than a die cut mailer of a comparable size. There are still many factors that contribute to the per unit cost, mainly size, number of colors printed, board color and ink coverage, but we will happily tell you an exact cost once you have a design ready for us to quote.
What are the Design Limitations When Printing an RSC?
Whether printing a die cut mailer or RSC, flexographic printing will always have certain limitations due to registration concerns, as well as limiting the amount of ink colors (See this post for more information on flexographic printing). However, technology is ever-improving, and what's possible is always changing from month to month. Our RSC machines can print up to 3 colors outside and 2 colors inside, and because it is all done in one pass, the print registration is typically held perfect or close to it. Again, once your design is ready to share, we will be able to guide you in the right direction in terms of whether or not your graphics are print-ready, or need a few tweaks or adjustments.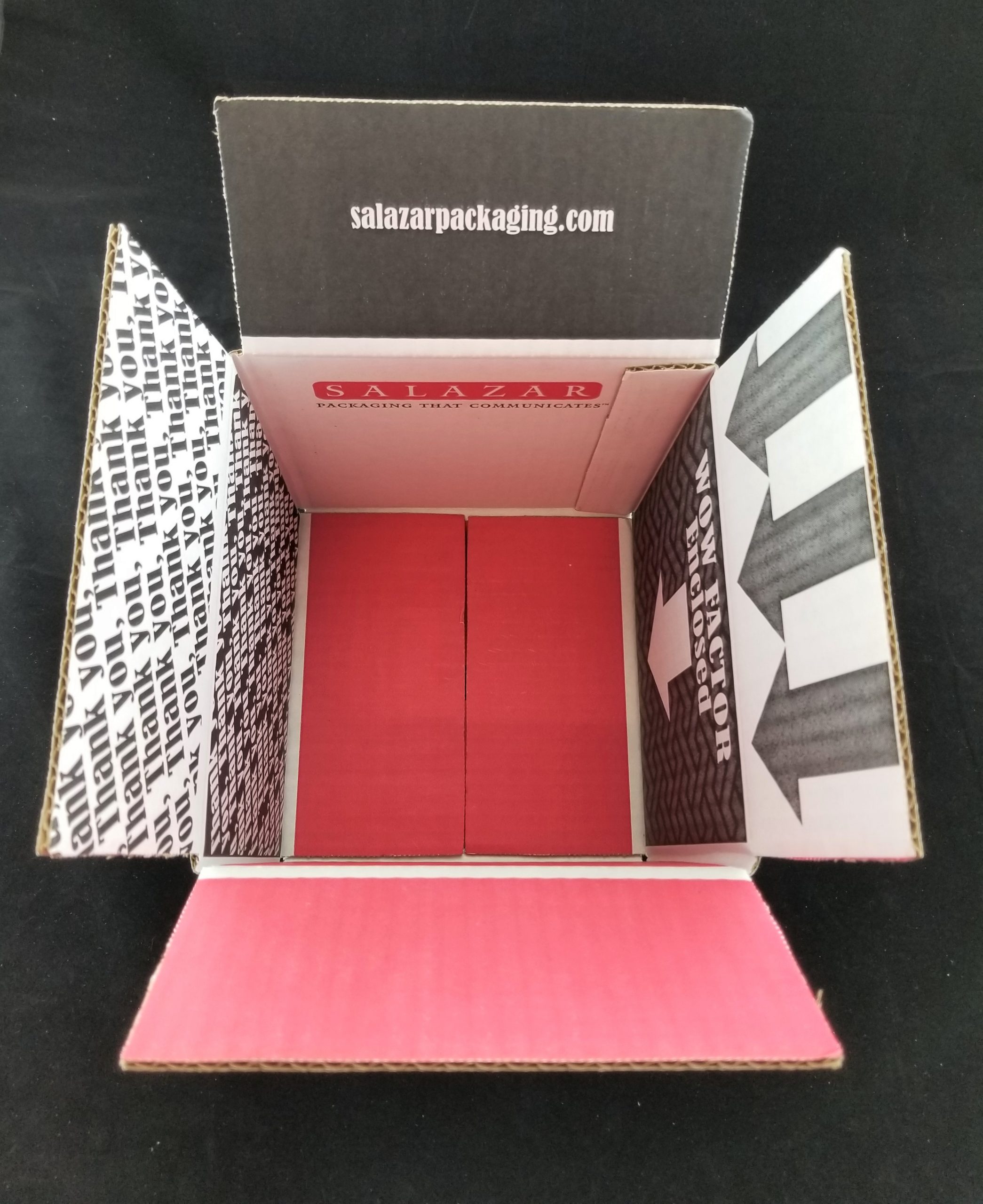 What are your Minimums and Lead Times?
Our minimum for most custom printed boxes starts at 1,000. However, keep in mind that size and graphics usually play a role in determining the minimum as well, and we would need to know dimensions before we can determine whether or not the application is a good fit for the equipment. As always, the higher volume you order, the lower your per unit cost will be.
Lead time is typically 2 weeks after final approved artwork on many of our first time orders. However, given the current business climate of the nation, there may be unexpected delays anywhere along the process. We are encouraging our customers to plan ahead during this time, and try to order in advance of when they are projecting they may need the finished product.
Please Contact Us Today
We're happy to walk you through an initial consultation and find a custom packaging solution that works for you. As always, if you have any questions, one of our branded packaging advisors is standing by to assist, with decades of experience behind them. Want to know more about custom packaging? Please call us today at 630-551-1700 or contact us via email at www.SalazarPackaging.com.
Related Posts:
https://www.globeguardproducts.com/industry-experts/boxes/the-buyers-guide-to-custom-printed-rsc-boxes/
https://www.globeguardproducts.com/industry-experts/custom-die-cut-mailers-and-rsc-boxes-when-rscs-may-be-the-better-packaging-option/
https://salazarpackaging.com/inside-and-outside-printing-on-a-dtc-e-commerce-style-box/
https://www.globeguardproducts.com/industry-experts/flexo-friendly-art-design-for-subscription-and-e-commerce-boxes/