Many custom packaging buyers use the buzzword "sustainability" when running down the list of the key objectives that are important in their packaging checklist. They often emphasize that they want their packaging to convey a message of sustainability to their end-users, and that it is important to their mission and company goals. But it's imperative to first ask what is most important to Ecommerce customers from a sustainability perspective. Your custom box may be printed with eco-friendly water-based inks, but this may not be something an Ecommerce customer asks about, thus the importance could get lost.
Understanding or anticipating what questions sustainability-focused Ecommerce customers are going to ask about your packaging, along with full transparency could lead to a better dialogue, especially if you are answering those questions directly on your packaging (branding), website or social media platforms before they are even asked.
Is the Packaging Recyclable?
This is probably the most common question we are asked by green-minded companies. All of our paper mailer envelopes, paperboard boxes and corrugated boxes are fully recyclable. Many of our customers address this with a "please recycle" print or a recycle logo somewhere on their mailers. Some customers use their packaging to not only speak to the sustainability of the packaging itself, but of their overall business or products as well, as seen in the example below. This is important in not only asking your customers to do their part to help the environment, but that the recyclability of the packaging was vital to you and your company as well.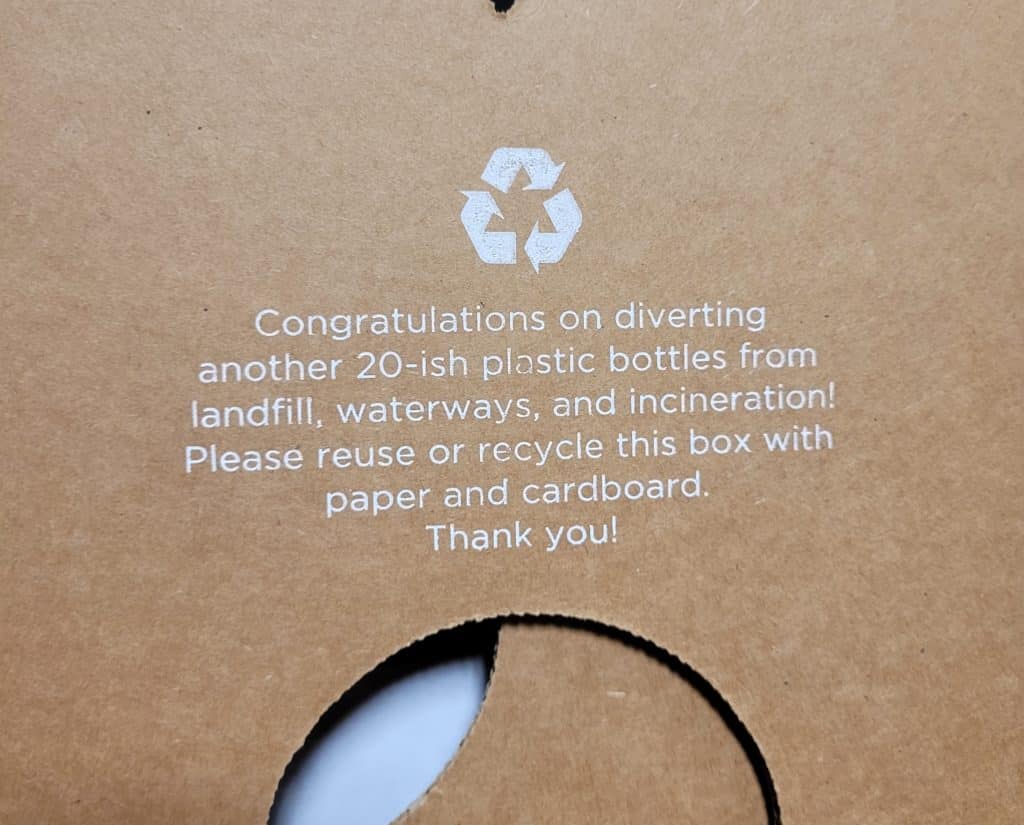 Is it Made from Recycled Content?
In most cases, the answer is yes for almost all of our paper-based packaging products. As you will see in the next subtopic below, the percentage of recycled content will vary, but if you don't want to get into the weeds and make specific claims, an effective approach is to simply include a line such as "Made From Recycled Content" somewhere in your branding. Many of our customers often include these first two together. "Made From Recycled Materials and Fully Recyclable."
How Much Recycled Content?
This answer will depend on the specifics of the packaging. We offer a variety of mailer envelopes, many of which are made from a minimum of 50% recycled content, up to 100% recycled content, and a variety of PCW (Post-consumer Waste) as well. Our corrugated mailer boxes are typically in the 30-70% recycled content range, but 100% recycled content may be available, depending on the graphics we would be printing, the order quantity, size and other factors, including cost as well. White board will differ from kraft board. Other factors such as if coatings need to be applied, whether the print is digital and requires a special board (such as Kemi) will also play into the mix. The discussion could also lead into asking if the board is FSC Certified. This is possible in some cases, but not in others. So again, there is no blanket answer to this question, but if a high percentage of recycled content is important to you and your customers, you can tailor your packaging so that it meets these expectations.
Is the Packaging Reusable?
This is becoming the new hot topic in packaging, as two-way, resealable, returnable mailers are becoming increasingly popular. Minimizing packaging waste, cutting costs, and ease of use have all made returnable, reusable mailers a high-demand product, and one of the more sustainable options in the industry.
If you want to know more about your sustainability options, please begin the dialogue with us today. We have been dedicated to being a green-minded business for over 15 years.
Please Contact Us Today
As always, if you have any questions, one of our branded packaging advisors is standing by to assist, with decades of experience behind them. Want to know more about custom packaging options? Please call us at 630-551-1700 or contact us via email at www.SalazarPackaging.com.
Related Posts:
https://www.salazarpackaging.com/earth-day-message-sustainable-packaging-the-forgotten-r/
https://www.globeguardproducts.com/industry-experts/expert-eco-friendly-dtc-e-commerce-packaging-advice/
https://www.globeguardproducts.com/industry-experts/fsc-certified-packaging-options/
https://www.globeguardproducts.com/industry-experts/recyclable-and-recycled-content-packaging/