We've focused the content of many blog posts recently on the subject of various trendy products within the world of DTC packaging, covering topics ranging from resealable mailers to inside printing on RSC boxes. While direct to consumer businesses continue to thrive and grow, the world of packaging is seeing incredible innovation to accommodate a wide variety of products and improve every step along the DTC process. Packaging is evolving with not only the customer or end user in mind for that all-important unboxing experience, but also for the warehouse or fulfillment team and every step of the process in between.
Custom auto-lock bottom, or snap-lock bottom boxes are the perfect example of what soon may become the latest DTC packaging trend.
What is an Auto-Lock Bottom Box?
While the auto-lock bottom concept is nothing new in the packaging world, it has long been a feature mostly for paperboard carton boxes featured in the retail store display space. Now auto bottom designs are becoming more common in the world of corrugated mailer boxes. As you can see in the progressive pictures below showing the formation of the auto-locking box, this is an easy to assemble box that forms fully from a flat structure with light pressure at either of the two ends, causing the carton to open and lock together in place. Then you simply need only to close the top flaps, or you can disassemble just as easily if needed.
What are the Benefits of an Auto-Lock Bottom Box?
Time is money, and auto-lock boxes can save you or your fulfillment team in assembly time. Believe it or not, there are some die cut mailer boxes that can be very challenging when it comes to assembly, indestructo style mailers, in particular. Auto-lock boxes are hassle free and much easier than most mailer boxes to form. Additionally, they require no tape or other materials for closure at the base, although the top still needs to be sealed.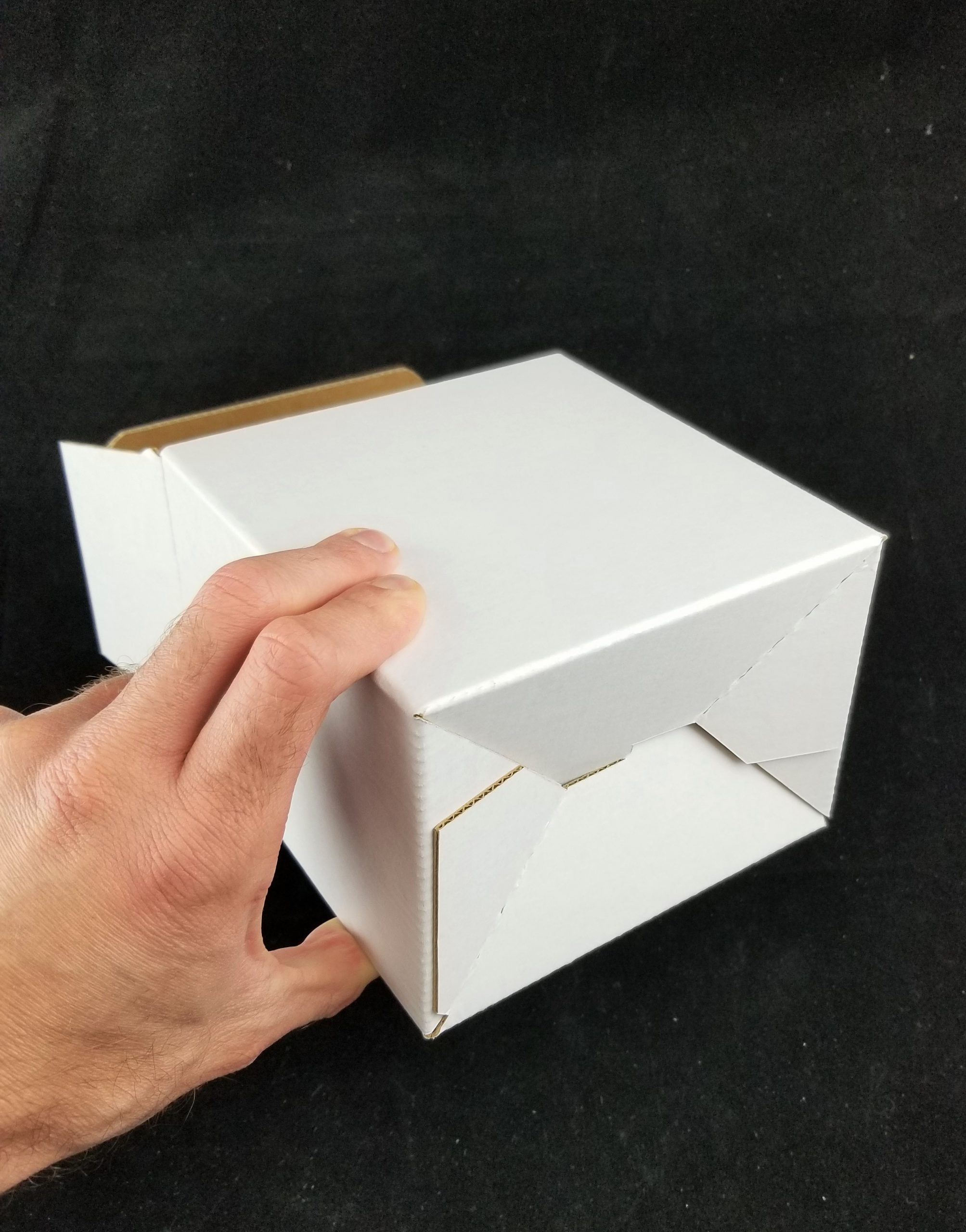 What are the Disadvantages of Auto-Lock Bottom Boxes?
Unfortunately, auto-locking mailers are not without their drawbacks. In fact, there are some applications where we would discourage our customers from using them. Particularly, if the application is low volume, the time saved during assembly may not outweigh the possible drawbacks. Due to the nature of their design, auto-locking bottom boxes may be more susceptible to tampering, pilferage or infestation, meaning valuable and high-end products in general should be packaged in more secure containers and sealed with tape. Additionally, the product weight should be considered, as the heavier the item being packaged, the more likely the easy-assemble construction of the locking bottom may be compromised or broken during transit.
Can you Customize Auto-Lock Bottom Boxes?
Yes! At our standard 1,000 MOQ, auto-lock boxes can be customized with inside and/or outside printing. A one time cutting die cost will be required for any auto-lock box application, with or without printing. The benefit is we can make the box to your specific dimension requirements to accommodate your product for the best possible fit.
Please Contact Us Today
We're happy to help you find a custom packaging solution that works for you. As always, if you have any questions, one of our branded packaging advisors is standing by to assist, with decades of experience behind them. Have questions about auto-lock bottom boxes? Want to know more about custom packaging options? Please call us today at 630-551-1700 or contact us via email at www.SalazarPackaging.com.
Related Posts:
https://www.globeguardproducts.com/industry-experts/whats-new-in-dtc-packaging-inside-printing-now-available-on-rsc-boxes/
https://www.globeguardproducts.com/industry-experts/ecommerce-and-dtc-packaging-options-and-upgrades-is-it-time-for-a-structural-redesign/
https://salazarpackaging.com/popular-micro-flute-board-options-for-e-commerce/
https://salazarpackaging.com/e-commerce-mailer-faq-peel-and-seal-adhesive-closure-boxes/