We often talk about the importance of "beating the rush" and getting your orders for holiday packaging in early, to avoid the end of year scramble. Truthfully, the best time to order for the 2021 holiday season has already passed, but that does not mean you are too late!
We have received information that many well-known custom packaging providers are out as much as 6 weeks or longer on printed corrugated mailers. As of the time of writing this post, we can beat these lead times. This means you can order now and still receive custom printed corrugated mailers in time for the holiday season.
Below is a breakdown of our most popular products and their current lead times, considering the holiday packaging timelines.
Custom Printed Corrugated Mailers
While we have always stood by the refrain that we can deliver boxes to first-time customers within 2 weeks of final approved art, times have changed and the pandemic has affected our industry from a lead time perspective. Now, typically we can ship within 3-4 weeks of final approved art. This is still dependent on the mailer size, quantity, graphics, board type, any special requirements (resealable, triple white board etc.) and other factors, but holds true in almost all cases.
Custom Printed PCW Mailer Envelopes
We launched this product late last year, and the lead times have remained relatively consistent. We can ship low to medium volume (1 case to 20 cases) branded mailers in about 2-3 weeks on average from final approved art, provided it is a stock size. What's more is that we've increased our stock size offering from 9 to 14 sizes to accommodate a wider selection and product variety.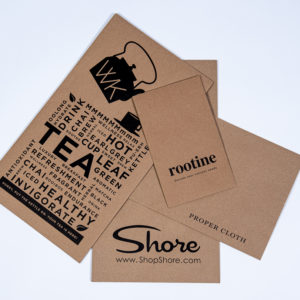 Custom Printed Paperboard Cartons
While the pandemic has brought about increased materials costs and lengthened production times for corrugated board, paperboard has remained relatively stable, and as such, our lead times on many custom paperboard/retail cartons holds at about 3-4 weeks. As is true of corrugated, the same factors will impact the lead times, including, most importantly, stock sizes compared to custom sizes.
Padded Paper Envelopes
Another new and popular product, you can purchase low volume stock padded mailers for immediate shipment through our stock web store here. On custom printed mailers, the minimums are currently a truckload. Lead times will vary, but please reach out via the contact links below to find out more.
Please Contact Us Today
If you want to know more about holiday packaging timelines, or have any questions on any of our products or services, one of our branded packaging advisors is standing by to assist, with decades of experience behind them. Want to know more about custom packaging options? Please call us at 630-551-1700 or contact us via email at www.SalazarPackaging.com.
Related Posts:
https://www.salazarpackaging.com/2021-holiday-e-commerce-packaging-ho-ho-ho-or-no-no-no/
https://www.globeguardproducts.com/industry-experts/how-to-help-offset-the-cost-of-a-corrugated-price-increase/
FAQ for Last Minute Holiday (DTC packaging) Shopping! – Salazar Packaging