To say these are unprecedented times may be an understatement. September has brought about the official notice of a 3rd corrugated materials increase in the last 12 months. While we proactively warned our customers that this was coming many months ago, it doesn't make it any less important as an ecommerce or DTC business for you to continually seek methods of offsetting these increased costs. Below are just some of the ideas we have always consistently tried to help our customers to better understand the options available to them.
RSC Boxes
No, RSC boxes are not exempt from the corrugated price increases. However, RSC boxes are typically lower in cost in comparison to die cut mailers on a per box basis, because they use less board. Additionally, print plates are almost always lower in cost as well. And, in many cases, a custom sized RSC does not require any tooling cost, while die cut mailers do. While not perfect or appropriate for every product or application, RSCs remain an excellent option, especially for heavy, larger products. And as you can read about in this blog post here, we have the ability to print inside, meaning you can still deliver a great unboxing moment for your customers.
Indestructo/Ta-Da and design concepts (Saving Board)
It may sound like common sense, but one of the best ways to counter a corrugated materials increase is to simply use less materials. This can be accomplished a number of ways, mainly by right-sizing your packaging, which you can read about here. But also by choosing a mailer box design that uses less board, such as an indestructo style mailer or our Ta-Da box design, which this post explains more about in great detail.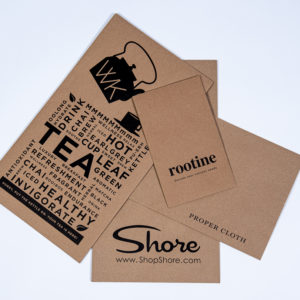 Mailer envelopes
In cases where your products are soft goods, clothing or apparel, mailer envelopes may in fact be the best packaging option for your needs. Fully recyclable, made of recycled content and one of the greenest products we offer, mailer envelopes can also be branded, 1 or 2 colors on both front and back. We can typically print mailer envelopes in lower minimums than boxes, and the cost savings can be tenfold. Keep in mind envelopes are easier to store, and your cost savings will extend to your shipping costs, when compared to boxes. You can read more about envelope options here.
Take Advantage of Price Tiers (Higher Volume)
While this may not apply to you if you are just launching, one of the best ways to offset a price increase is to actually order more. Our minimum is typically 1,000 boxes, but you will see price breaks as you increase quantities. A 5,000 box order may save you as much as 30-50% on a per box basis by comparison. While machine time will differ, the setup time is the same for 1,000 or 5,000 box orders, so the incentive is there to run more while the machine is set up to do so. Keep in mind this will also be more economical and result in savings to ship 5,000 boxes at once to your location, rather than ship 1,000 boxes 5 separate times.
Please Contact Us Today
As always, if you have any questions on any of our products or services, one of our branded packaging advisors is standing by to assist, with decades of experience behind them. Want to know more about custom packaging options? Please call us at 630-551-1700 or contact us via email at www.SalazarPackaging.com.
Related Posts:
https://www.salazarpackaging.com/how-a-new-box-design-can-help-you-minimize-the-impact-of-corrugated-price-increase/
https://www.salazarpackaging.com/the-ta-da-box-by-salazar-packaging-is-redefining-the-unboxing-experience/
https://www.globeguardproducts.com/industry-experts/boxes/the-buyers-guide-to-custom-printed-rsc-boxes/
https://www.globeguardproducts.com/industry-experts/boxes/a-buyers-guide-to-indestructo-style-dtc-mailers/