At Salazar Packaging, we are widely known for our long history and track-record of branded custom corrugated packaging. But as inquiries in alternative forms of packaging have increased over the years, we have prided ourselves on becoming a one-stop shop that can accommodate many product applications. This means being able to produce not only the shipping container, but also the paperboard or rigid-wall boxes that are being shipped, or placed in a retail store for display.
Rigid-wall Boxes, or two piece, setup boxes as they are alternatively known, are most commonly used for products like candles, cosmetic items or jewelry, although we have also created some for a wide variety of other applications such as sports collectibles, bibles and bow ties.
Rigid Wall Box Branding and Customization
Perhaps the most appealing aspect of rigid-wall boxes is that, when it comes to graphics/branding—to a certain extent—if you can dream it, we can do it. With the understanding that the more elaborate the box, the higher the cost, there is virtually no limit to what can be accomplished.
Lamination-Possible on both the interior (lined) or exterior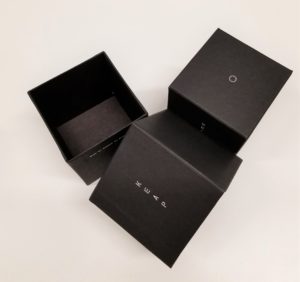 Print Process-Digital or offset
Photo Quality Images
Almost no limit to color or design possibilities
Linens, foils, spot or flood coats, embossing, debossing, satin or high gloss
Unique shapes, sizes, structures
Magnetic strip closures (minimums apply)
As is true of all custom items, minimums will always apply and quantity will impact cost. There are certain design aspects that will make sense at 20,000 boxes that simply won't be feasible at 2,500.
Advantages and Disadvantages of Rigid-wall Boxes
Shipping costs are always a consideration for rigid boxes, because they must ship formed, not flat like corrugated mailers. This could be viewed as a disadvantage because you are paying to essentially ship air on a production run shipping to your fulfillment or distribution center. However, a great advantage is that many times, a rigid box will be shipped to your customers within an outer shipper. This is often a mailer box or poly mailer, but our own padded paper mailers may be a great solution as well—now on sale here! The added layer of shipping protection means that the money you are spending on design/graphics/branding will be well spent, as the box is preserved during transit and spared from most, if not all of the elements that a branded shipping box is exposed to (weather, scuffs, tears etc.).
Another, often overlooked advantage is that most rigid-wall boxes require little or no tooling or setup costs. This means right-sizing to fit your exact product. And you can often run as many different print versions of your design as you want within the same production run with no cost impact. With this in mind, it becomes easy to make changes on future/subsequent orders without having to worry about print plate and tooling costs that are associated with alternative packaging like die cut mailers.
The only way to know if rigid-wall boxes are right for you and your product(s) is to send as an email via the contact us link below!
Please Contact Us Today
As always, if you have any questions on any of our products or services, one of our branded packaging advisors is standing by to assist, with decades of experience behind them. Want to know more about custom packaging options? Please call us at 630-551-1700 or contact us via email at www.SalazarPackaging.com.
Related Posts:
https://www.salazarpackaging.com/buyers-guide-rigid-boxes-e-commerce-subscription-applications/
https://www.globeguardproducts.com/industry-experts/custom-rigid-set-up-boxes-for-retail-or-display-packaging/
https://www.salazarpackaging.com/combining-paperboard-and-corrugated-for-maximum-dtc-unboxing-experience/