Custom inserts have become increasingly popular in recent years, as DTC companies look for ways to deliver their product(s) safely to their customers in a way that provides a memorable unboxing experience. Consider the difference between receiving a package with loose, messy and unattractive void fill compared to a beautifully printed box and insert where the product is prominently displayed. Below are just a handful of some of the different types of inserts we have created for companies, to give you ideas of what we can also do for you!
Built-in Insert
While not always applicable to every product or design, built-in inserts do have their advantages, and with the right product they are truly a cost-saver and great alternative option. One of the best benefits is that the insert is attached to the mailer box, meaning it is all cut using one cutting die, instead of two cutting dies to cut the insert and the mailer individually. This should save on tooling costs, and likely minimize board as well, potentially saving money on a per unit cost basis. They may also save time for your fulfillment center/team, and eliminate any possible confusion or guesswork over which insert needs to be included in what mailer, or how the insert should fit within the mailer.
Digital Printed Insert
There's truly nothing like a gorgeous digital print to make your product standout. You can see from the examples below, nothing pops quite like a digital print. When it comes to custom inserts, specifically, you are really getting the most bang for your buck, because unlike printing the outside of a box which will be exposed to shipping elements (scrapes, dirt, scuffs), when you print an insert, you know it is protected safely inside of the box.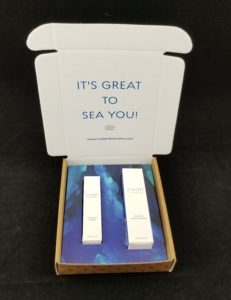 Repeat Pattern Insert
Random repeat patterns have long been popular for box printing, and now they are catching on for inserts as well. We've started to see a trend of inserts being printed in alternative colors or patterns from the box print, and it creates a beautiful contrast in appearance.
Two-Tier Insert
Exactly as it sounds, a two-tier insert is designed to create a stepdown, or staircase effect where product can be displayed on different levels or planes within the mailer. This can be both a unique presentation to your customers, but also an effective insert from a functional aspect as well. Some products may vary in weight, size, height etc. and require something like a two-tier insert to elevate one or multiple items to meet the lid of the box when closed and prevent movement or shifting during transit.
Flood Coated Insert
An always classic option, flood coated inserts are great because they can mirror an interior flood coat print of the mailer box, creating a consistent and beautiful look that really pops and makes the product stand out among a sea of color. As an added benefit, flood coats can often be accomplished without any print plate needed, saving on initial costs as well.
See an insert you like? Want to know more about custom inserts? Please reach out to us via the links below.
Please Contact Us Today
As always, if you have any questions on any of our products or services, one of our branded packaging advisors is standing by to assist, with decades of experience behind them. Want to know more about custom packaging options? Please call us at 630-551-1700 or contact us via email at www.SalazarPackaging.com.
Related Posts:
https://www.salazarpackaging.com/the-pros-and-cons-of-built-in-inserts-for-e-commerce-packaging/
https://www.salazarpackaging.com/faq-for-e-commerce-box-inserts-for-interior-and-protective-packaging/
https://www.globeguardproducts.com/industry-experts/boxes/dtc-and-ecommerce-branded-packaging-trends-whats-hot-right-now/