There is no shortage of suppliers of packaging for the Chicagoland area. But we pride ourselves on being top dog. While our office is about an hour southwest of Chicago, we do have a number of plants spread across the country, including the west coast and down south. But many of our plants are in the Midwest, an attraction to companies in the area, looking to minimize shipping expenses and work with a local, reliable company with a near 14-year track-record of packaging success stories.
At any given time at Salazar Packaging, we may have several projects we are working on for local companies, both ecommerce DTC businesses and retail-based stores alike. Word travels fast, and many of our local, surrounding-area inquiries come to us by word of mouth or referrals from our amazing current customers. Someone sees one of our boxes out in the wild and they want us to do something similar for their own business.
All of the examples given below are just a few of the companies we have worked with in the past few years who call the Chicagoland area home. You can see the variety of designs, prints and styles we have created along the way.
Krema Coffee House      
This is a classic example of a very popular choice, black on kraft. It's very eye-catching and portrays an eco-friendly image to the consumer.
https://www.kremacoffeehouse.com/
Oswego Chamber of Commerce
Interior Repeat patterns are in right now. This is a perfect example of this, and even shows how a repeat pattern does not need to take up the entire board space to be used effectively.
Fons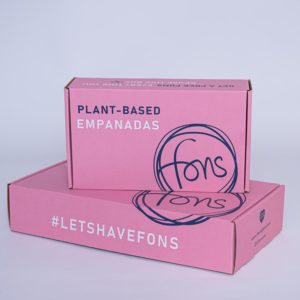 A great example of right-sizing your packaging. In this case a 6 and 12 pack for plant-based Empanadas. The design shows a combination of reverse print pink with positive copy over-print in dark blue.
Peter Rubi
Very few can pull off white ink on kraft, and many won't even attempt it, but we've proven time and again that we can do it with great results.
Salazar Packaging has long been a trusted and valued supplier of packaging for the Chicagoland area.
Not located in the Midwest??
Not a problem! We have worked with companies from nearly all of the 50 states, and would be more than happy to discuss how we can best serve your packaging needs!
Please Contact Us Today
As always, if you have any questions on any of our products or services, one of our branded packaging advisors is standing by to assist, with decades of experience behind them. Want to know more about custom packaging options? Please call us at 630-551-1700 or contact us via email at www.SalazarPackaging.com.
Related Posts:
https://www.salazarpackaging.com/plainfield-illinois-dtc-packaging-powerhouse/
https://www.salazarpackaging.com/our-semi-custom-solution-for-e-commerce-dtc-boxes/
https://www.globeguardproducts.com/industry-experts/boxes/salazar-packaging-versatility-the-many-benefits-of-a-one-stop-shop-for-custom-packaging/
https://www.globeguardproducts.com/industry-experts/tips-for-first-time-buyers-of-branded-dtc-mailer-boxes/