The term "color" in flexographic printing is typically used to describe the ink color. The expression: "I'd like a blue box," ultimately means printing a box in blue ink. But regardless of ink, there is another color to consider for your mailer, and that is the board color.
When it comes to custom die cut mailers, there are actually five different options of board color combinations. This refers to the board color BEFORE printing, not after. We can print virtually any PMS color to create the many bright and beautiful boxes you see on our gallery page, but all of those will start in one of the following five combinations.
Kraft outside/Kraft Inside
Not only the greenest of the board combinations, an all kraft box will be the lowest cost option as well. Typically, kraft board is about 5-10% less expensive than white board per side (inside/outside) and is very popular among the eco-minded companies who want to portray a natural, clean look to their customers. If you didn't already know, Salazar Packaging prints white on kraft better than almost anyone. You can read more about our white on kraft print capabilities here.
Kraft outside/White Inside
This might be our most recommended combination to people, because of the added pop of the unboxing experience from opening a kraft die cut mailer to see a printed white interior. The contrast is always a neat thing to see, and when done well, this board combination is a great option to make sure you are getting the most bang for your buck. After all, this is a shipping box, and protecting your design from the elements and perils of shipping (scrapes, scuffs) by focusing the print on the interior is never a bad idea.
White outside/Kraft Inside
Perhaps the rarest combination, this board combo is often used as a cost-saving measure where the outside is printed, typically as a flood coat, or high ink coverage, and the inside is unprinted kraft. A white printed exterior does often stand out and will make a great first impression to the customer. Meanwhile, the savings of not printing the inside of the box may be upwards of 20-30% on a per unit basis.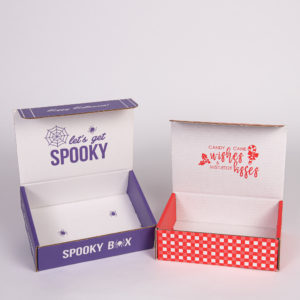 White outside/White Inside
What could also be referred to as "double white," this is the second most costly of the board combinations, but typically results in some of the most brilliant and beautiful prints. From exterior and interior flood coats, to various other design combinations, double white allows you a lot of canvas, so to speak, to play with. One possible concern, however, is in cases of heavy ink coverage in dark colors on one side, and little or no ink coverage on the other, exposing the white board to potential ink ruboff. A varnish coating or low-rub ink is HIGHLY recommended in these cases.
Triple White
You could say that we saved the best for last. Triple white is rare due to its higher cost and minimums, by comparison to the other board options, but it truly makes a mailer stand out and impresses. Ideal for cosmetic, luxury or high-end brands, triple white offers a clean, unique look. Simply, it is double sided white board with the added element of a white corrugated medium, also known as the fluting. You can read more about triple white in the first related post below.
Please Contact Us Today
As always, if you have any questions on any of our products or services, one of our branded packaging advisors is standing by to assist, with decades of experience behind them. Want to know more about custom packaging options? Please call us at 630-551-1700 or contact us via email at www.SalazarPackaging.com.
Related Posts:
https://www.salazarpackaging.com/for-a-unique-d2c-e-commerce-shipping-box-try-triple-white-board/
https://www.globeguardproducts.com/industry-experts/colorful-dtc-shipping-boxes/
https://www.globeguardproducts.com/industry-experts/boxes/2-color-prints-with-pop-flexo-friendly-dtc-packaging-designs-2/
https://www.globeguardproducts.com/industry-experts/boxes/the-buyers-guide-to-low-cost-color-changes-and-flexo-friendly-branding-options/