The eco-friendly movement which we were on the forefront of well over a decade ago has really now become the standard for all ecommerce packaging. Questions pertaining to recycled content and the recyclability of our products are among the first questions we are asked by potential customers, along with follow-ups such as the sustainability of our inks.
If you've spent any time over on our new website at Salazarpackaging.com, you have probably already seen that we have an entire page dedicated to sustainable packaging, with the last two sections speaking specifically to recycled content and recyclability of our packaging.
With regards to corrugated boxes in particular, (both RSCs and die cut mailers) there are some key points of information that are worth mentioning in order to best understand what options are available to you.
Recycled Content
As a general rule, when you order a corrugated box from Salazar Packaging, it will be made anywhere from 40-70% recycled content. You don't have to pay extra, order more, or make any kinds of specific requests or demands for this to apply. This is just the standard across our board suppliers. If, however, you are looking for something specific, such as FSC certified board or 100% recycled content board, then there is a question of availability. In some cases, it MAY be possible to achieve this, but it will depend on several factors including the box size and what you are printing. For example, 100% recycled content board may not be a good substrate for certain graphic designs or ink choices. You also may need to meet a higher minimum order quantity, and/or pay more than standard board pricing.
Recyclability
All of our corrugated boxes are fully recyclable. This includes printed boxes, as the inks we use do not affect the recyclability of the box. If you need internal packaging components, (partitions, inserts, dividers) we almost always find a corrugated solution as opposed to foam, plastics or molded pulp. A corrugated box with a corrugated insert means that the entire package is recyclable, meaning not only will your customer appreciate the improved unboxing experience and product presentation, but they will also appreciate the sustainability of the packaging. This is a welcomed alternative to messy, unattractive void fill options that may involve special or restrictive recycling requirements or may not be recyclable at all.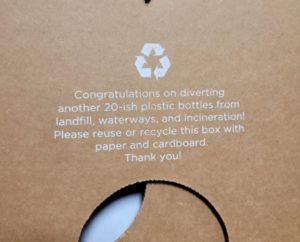 Reusability
The sometimes forgotten "R" of sustainable packaging. Now, more than ever, reusable packaging is on the mind of many ecommerce businesses, especially those who send trial products to their customers or offer flexible return policies. Peel and seal closure with tear strips are a great feature on a die cut mailer, for easy open/access and resealable so that the end user can reuse the same box to ship again.
You can read more about peel and seal reusable packaging here.
Whether you have long been focused on and prioritized sustainable packaging, or are just now learning about the process of how to become a green-focused packaging buyer, we are here to help guide you along the way.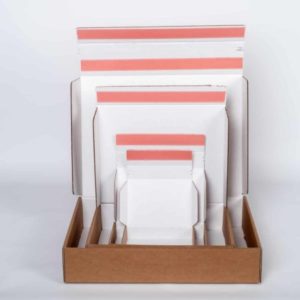 Please Contact Us Today
As always, if you have any questions, one of our branded packaging advisors is standing by to assist, with decades of experience behind them. Want to know more about custom packaging options? Please call us at 630-551-1700 or contact us via email at www.SalazarPackaging.com.
Related Posts:
https://www.salazarpackaging.com/sustainability-in-dtc-e-commerce-packaging/
https://www.salazarpackaging.com/a-great-packaging-design-consultant-delivers-sustainability-and-more/
https://www.globeguardproducts.com/industry-experts/recyclable-and-recycled-content-packaging/
https://www.globeguardproducts.com/industry-experts/common-questions-from-sustainability-focused-ecommerce-customers/