Selecting the right DTC packaging solution is often a matter of weighing several options and factors, but the most common decision many of our customers make from the beginning is choosing between mailer envelopes or boxes. If you visit the first link listed at the bottom of the page, you can see that there are a variety of envelope types/styles, including rigid mailers and padded/unpadded paper mailers. There is also a lot of variety among boxes, including RSCs, rigid boxes and die cut mailers. When you consider all options at once, it can tend to be a little overwhelming, perhaps even discouraging. At Salazar Packaging, we like to simplify things and take step-based approaches that guide you along the decision-making process. Asking the following questions are a good gameplan to start with.
What is the Primary Function of the Packaging?
By this we simply mean, what problem is the packaging intended to help you solve? Perhaps it is protection during shipment. Or to consolidate several items/products into one shipment. Or to display your product on a retail shelf. As we like to say, there are no one size fits all solutions, so as your personal packaging resource, every bit of information you give us is useful to determining the best path forward. There are many possibilities, and there may be multiple answers, but focusing on this question first and foremost is key.
What is/are the Product(s) Going Inside?
You can think of this question in lock-step with the first, because the answers to each are really tied together. For example, if you say the primary function of the packaging is to protect your product during shipment, and the product is glass bottles, then the packaging solution will certainly need to be a box, not an envelope, and will likely involve interior packaging such as inserts. However, if the product is a photograph, then an envelope will almost certainly be the better solution. So while the function is the same, the products are entirely different. It's important to note that there are many products that can be packaged in either an envelope or box, which is why the questions that follow this one are necessary.
How Many Are You Able to Purchase Initially?
For custom packaging, there can be a vast range of order quantity minimums between packaging solutions. Custom boxes tend to have minimums starting around 1,000 units (although sometimes are higher), while envelope minimums may vary from as low as 200 units to as high as a full truckload. As a secondary part of the question, asking "when do you need them by" may also factor into the decision, as just as minimums vary, so to do the lead times for each packaging product.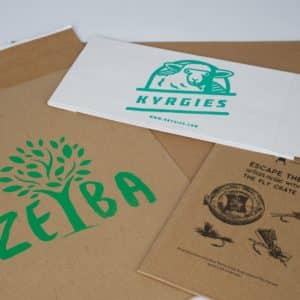 What is Your Initial Packaging Budget?
As important as the other steps in the decision making process are, we all know that MOST decisions by companies end up coming down to bottom-lines and budgets. Money talks, and in the world of packaging, there can be a substantial cost difference between a 1 color printed mailer envelope and a litho label full color photo quality image box. Understanding these cost differences, what factors into pricing and how to best find savings and the best bargains for your buck is part of what we do in our guidance.
In addition to the actual packaging cost, consider also the shipping costs associated with boxes vs. envelopes (both the cost to ship from us to you, and from you to your customers).
What is Your Available Storage Space?
Often overlooked in the process, the answer to this question can be a determining factor if you are still deciding between envelopes and boxes at this stage. Envelopes will certainly take up less storage space than boxes, and can be much easier to maneuver if say, you are working and fulfilling orders entirely out of your garage or basement and don't have the ability to move/store a pallet of boxes.
If you think you may have answers ready to any or all of these questions, reach out to us today to get started down the path. We are eager to help!
Please Contact Us Today
As always, if you have any questions, one of our branded packaging advisors is standing by to assist, with decades of experience behind them. Want to know more about custom packaging options? Please call us at 630-551-1700 or contact us via email at www.SalazarPackaging.com.
Related Posts:
https://www.globeguardproducts.com/industry-experts/4-unique-types-of-mailer-envelopes-product-specific-packaging-guidance/
https://www.salazarpackaging.com/boxes-or-envelopes-dtc-packaging-options-for-e-commerce/
https://www.salazarpackaging.com/reduce-shipping-costs-by-using-mailer-envelopes-rather-than-boxes/
https://www.globeguardproducts.com/industry-experts/custom-sized-recycled-mailer-envelopes/